E Pluribus Unum: A Study of Reconnecting a Broken Urban Fabric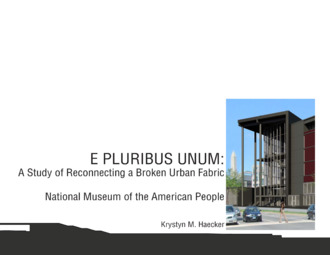 View/Open
Downloads: 10530
Downloads: 488
Date
2013-07-05
Abstract
A city requires the architecture that comprises it to stitch together its urban fabric, creating connections between various, potentially disconnected, parts. Architecture mediates its surrounding public and open spaces, including plazas, streets, and parks. To fully understand a site of a future development, it is first important to understand the current and future conditions of the area within which the site is located, and in some cases its historical context as well. Only then can designers produce architecture that responds to and provides for its urban context for current and future generations.

By studying the current, historic, and future contexts of Banneker Overlook, this thesis was developed by a thorough understanding of its site as a means of influencing the program and future architectural design. Banneker Overlook in its current state is a disconnected urban park in Southwest Washington, DC, originally intended as a connection point between two parts of the city. The purpose of this thesis is to reconnect the higher L\'enfant Promenade with the lower Maine Avenue and Southwest Waterfront by means of the architecture and exterior public spaces.

The program chosen for the site is a large public museum called the National Museum of the American People. It will "tell the story of ALL of the American People from prehistoric times to the present" (National Museum of the American People).  A large cultural building was used because of its capability to pull Washington residents and visitors to a single location coming from various, possibly disconnected, parts of the city.

As a product of the site conditions, this thesis along with its site and building program became a study of creating connections of places, spaces, ideas, and people over time and space in an attempt to understand how architecture could represent this idea at both an urban and building scale. All of these ideas can be represented in our original national motto: E Pluribus Unum, "Out of Many, One."