Type IV Pili-Dependent Secretion of Biofilm Matrix Material Proteins in Clostridium perfringens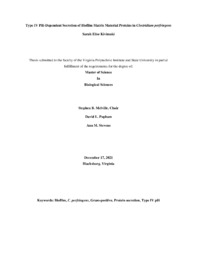 View/Open
Downloads: 0
Downloads: 0
Downloads: 0
Downloads: 0
Downloads: 0
Date
2022-01-21
Author
Kivimaki, Sarah Elise
Abstract
Clostridium perfringens is a Gram-positive bacterium that secretes a biofilm matrix material. The goal of these experiments was to identify pilin mutants that are needed for secretion of the biofilm matrix and develop a functional model for a type II secretion system (T2SS) in C. perfringens. Protein tagging, western blot, and slot blot experiments were done to quantify protein secretion. After performing experiments using a CPE0515-FLAG construct, it was concluded from immunoblot densitometry data that, except for the pilA1 deletion mutant, none of the 18 tested pilin mutants had a statistically significant difference from the wild type (WT) with regard to protein secretion. From slot blot densitometry assays, it was concluded that the pilA1 and CPE2280 mutants showed statistically significant lower values than the WT but the pilA2 and CPE1841 mutants had values that were higher than the wild type. Testing the construct containing only CPE0514 and CPE0515-FLAG showed that CPE0516 and CPE0517 are not needed for secretion of the protein CPE0515. HA-tagged CPE0516 qualitative immunoblots showed that, unlike CPE0515, oligomerization of CPE0516 is not occurring, and that this protein likely forms a heat stable dimer. Overall, the data did not allow us to construct a T2SS model, since there were not enough proteins revealed to be involved to create a complete Type II secretion system.
General Audience Abstract
The methods by which C. perfringens can persist and survive in environmental conditions is something that would be useful to learn more about. One of the methods that many bacteria use to survive is by creating a biofilm matrix material, which provides protection for the bacteria from environmental stresses. In this study, the goal was to determine which specific proteins are needed for the secretion of the biofilm matrix material. Using molecular biology techniques, the proteins thought to be involved in biofilm formation quantified. The results showed that while two proteins ultimately appeared to be needed for secretion, there were not enough proteins involved to create a complete model for a functional secretion system in C. perfringens.