Analyzing Stakeholder Perceptions of Gaps in Public Sexuality Education: Curriculum, Context, and Community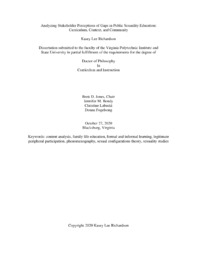 View/Open
Downloads: 7
Downloads: 3
Downloads: 1
Date
2020-11-19
Author
Richardson, Kasey Lee
Abstract
Sexuality education in public schools in the US is a set of curricula geared toward sexual health, sexual identities, sexual acts, associated values, as well as intimacy and relationships (Naz, 2014). Taught under the curricular umbrella of family life education in the present study, it is governed by state and federal legislation and shaped by community values. It is also uniquely controversial both politically and personally (Drazenovich, 2015; Giroux, 2011). In this study, I developed research questions grounded in Sexual Configurations Theory (SCT): a contemporary, comprehensive theory of sexual identities and behaviors (van Anders, 2015). I also used the theory of legitimate peripheral participation, which is a well-established theory of social interaction that can explain how learning occurs within and around a community (Lave and Wenger, 1991). I analyzed the curriculum of two rural public school divisions in the southeastern US to identify salient categories of curricula relevant to the research questions. I also interviewed 29 school personnel and community partners involved in the curriculum development and guest lectures. I aimed to identify differences in their perceptions of the curriculum as well as how students may have learned about sexuality in out-of-class contexts (for example, the internet, pornography, peer-to-peer, in households, etc.) (Charmaraman, Lee, and Erkut, 2012; Tight, 2016). Results indicated that participants perceived adolescents engaging in informal learning about sexuality elsewhere. The participants reported trying to help adolescents bridge these gaps in instruction with community partnerships, guest lectures from health professionals, and referrals to resources inside and outside of the school. I conclude that curriculum, context, and community are overarching principles in teaching and developing sexuality education. The evidence gathered and interpretations presented provide a rich description that drives implications for stakeholders interested in increasing curricular comprehensiveness.
General Audience Abstract
Sexuality education (or sex ed, also sometimes called family life education) in US public schools is a course that teaches adolescents about sexual identities, sexual activities, values, and relationships. It is a controversial topic due to its history, the politics associated with it, and differing values surrounding it across communities. In this study, I looked at the sexuality education curriculum of two rural school divisions in the southeastern US. I also interviewed 29 school personnel and community health partners involved with the curriculum and guest lectures, paying special attention to different perspectives that were raised about the topic. Results showed that participants were perceived that adolescent students would search for information on sex (such as among their peers, at home, on their phones, and watching pornography) when not given the information they wanted in the classroom. Participants also perceived concern that adolescents would engage in sexual behaviors as a result of out-of-class learning, and they attempted to provide referrals to in-school and community resources to bridge the gap between what was taught in the classroom and what was learned out of class. The research also uncovered different views on opting out of sexuality education, abstinence, pregnancy, disease (STI) prevention, and use of technology and apps.