Writing War: Veterans in the College Writing Classroom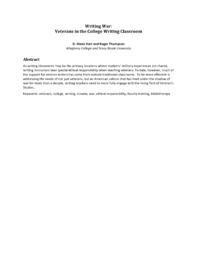 View/Open
Downloads: 2977
Downloads: 307
Date
2013-04-15
Author
Hart, D. Alexis
Thompson, Roger
Abstract
As writing classrooms may be the primary locations where students' military experiences are shared, writing instructors bear special ethical responsibility when teaching veterans. A discussion of research conducted with the support of a Conference on College Composition and Communications (CCCC) Research Initiative Grant, investigating the demographics of Post-9/11 military veterans who are entering college writing courses.
Related items
Showing items related by title, author, creator and subject.
Kiser, Charlene

(

Virginia Tech,

2006-02-17

)

Although it may not seem possible that a student could graduate from an Ivy League institution without basic writing skills, a 2003 Chronicle of Higher Education article concluded that it is not only possible, but that ...

Shelor, Nola Versalene

(

Virginia Tech,

1957-05-17

)

The following general conclusions were drawn from the results of this study which included (1) measurement of speed; control; and a combination of both speed and control; and (2) preferences of the students regarding ...

Singleton, Meredith

(

2014-04-28

)

Through Post-911 GI Bill benefits, military veterans are flooding college admissions offices and writing classes at rates not seen since the World War II era. According to the United States Department of Veterans Affairs, ...