Writing War: Veterans in the College Writing Classroom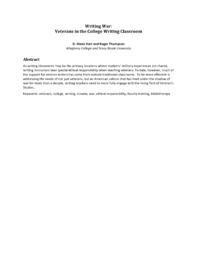 View/Open
Downloads: 3164
Downloads: 356
Date
2013-04-15
Author
Hart, D. Alexis
Thompson, Roger
Abstract
As writing classrooms may be the primary locations where students' military experiences are shared, writing instructors bear special ethical responsibility when teaching veterans. A discussion of research conducted with the support of a Conference on College Composition and Communications (CCCC) Research Initiative Grant, investigating the demographics of Post-9/11 military veterans who are entering college writing courses.
Related items
Showing items related by title, author, creator and subject.
Kiser, Charlene

(

Virginia Tech,

2006-02-17

)

Although it may not seem possible that a student could graduate from an Ivy League institution without basic writing skills, a 2003 Chronicle of Higher Education article concluded that it is not only possible, but that ...

Elliott, Jean

(

Virginia Tech. University Relations,

2005-05-18

)

Virginia Tech's department of English will hold a week-long writing camp for youth this summer. Targeted for ages 8-18, All Write will be held from June 20-24. Participants can opt to focus on poetry, fiction, or non-fiction ...

Saba, Maggie Sami

(

Virginia Tech,

2014-01-09

)

This qualitative case study sought to gain a deeper understanding of the obstacles that students from the Kingdom of Saudi Arabia face when learning English in a writing course that implements critical thinking and writing ...