The Social Production of the Built Environment: the Case of the Townhouse in Harare, Zimbabwe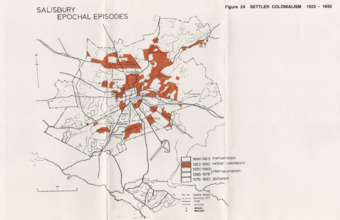 View/Open
Downloads: 131
Downloads: 194
Downloads: 133
Downloads: 208
Downloads: 220
Downloads: 199
Date
1992
Abstract
This research is concerned with the social creation of built environments in the Third World. The absence of appropriate theoretical frameworks has hampered the research of Third World cities. Recently, however, the opportunity for applying concepts, that have to date been largely confined to the study of western cities, has increased provided they are organized in a suitable way. Drawing on concepts such as built environment, socio-spatial dialectic, and structure and agency, this research outlines and applies a framework for the study of Third World urbanization.
In order to explore the interdependence between space and society this study "unpacks" the urban landscape of Harare, Zimbabwe. Working in the context of the culture of capitalism, the study traces the development of the southern African zonal urban system before establishing a typology of landscape ensembles through successive stages of the evolution of Zimbabwe's political economy. Within the current global epoch, the study focuses on a specific type of built environment -- the townhouse.
As a repository of contested cultural ideas and practices, the townhouse stands at the center of often conflicting socio-economic groups defined collectively as a "structure of provision".