The Story of NADSA (The National Association of Dramatic and Speech Arts, Inc.)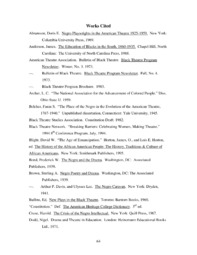 View/Open
Downloads: 178
Downloads: 241
Downloads: 144
Downloads: 133
Downloads: 242
Downloads: 112
Downloads: 153
Downloads: 142
Downloads: 267
Downloads: 250
Downloads: 126
Downloads: 220
Downloads: 180
Downloads: 183
Downloads: 153
Downloads: 111
Downloads: 139
Downloads: 282
Downloads: 188
Downloads: 141
Downloads: 134
Downloads: 168
Downloads: 172
Date
2000-06-20
Abstract
The Story of NADSA (The National Association of Dramatic and Speech Arts, INC.)
A. Clifton Myles
(ABSTRACT)
As the 25th president of the National Association of Dramatic and Speech Arts, Inc. (NADSA), it was my goal to develop a plan of action for NADSA in the 21st century. Not only is my responsibility to continue the legacy established by others, but also it was my desire to develop ideas based on a thorough and exhaustive historical analysis of the organization, which laid the foundation for a self study of this sort to happen. The purpose of this study is to thoroughly investigate the history of the NADSA for two reasons: 1) to determine what is the driving force behind this organizational structure that has caused it to be the oldest surviving national educational theatre organization in the country; and 2) to evaluate why this association has not taken the rank of being the "premier" theatre association among theatre practitioners.
It has been sixty-four years of struggling and surviving for the oldest Black educational theatre organization in America, and that is a magnitude of history of which to be proud. Founded upon the principle that Blacks needed to be educated in both speech and theatre, NADSA has provided a vehicle for almost sixty-five years. This organization established competitions, publications, symposiums, meetings, and opportunities for minorities who had interests in speech and/or theatre on a national level. It also provided opportunities for professional development and networking when Blacks were still thought of largely as "coons". NADSA acknowledged an art form for Blacks when many thought that pursuing theatre arts was simply a waste of time. What I found is simply that this great organization was built on a strong organizational structure and has a phenomenal legacy. The downfall of the organization, as with any organization I suppose, has been with the people who make momentous decisions, based oftentimes not on thinking in terms of what is best for the organization, but possibly, on what is best for their own political agendas.
This research has revealed that the organization has survived because there was a need then and there is a need now for Historically Black Colleges and Universities (HBCUs) Speech and Theatre programs to meet and compete in the areas of speech and theatre. It is these largely because of these meetings that HBCU programs receive validity, very similar to that of athletics, which is the model that Edmonds', NADSA's founder, used to develop the structure for NADSA. Also, the research determined that NADSA has not taken the rank of being the "premier" theatre association in the country primarily because that status was never NADSA's goal. NADSA serves a clientele that supports underfunded Speech and Theatre programs primarily at HBCUs. And because it has stayed true to its mission, NADSA has survived the tests of time and maintained its history, mission, and legacy as the oldest surviving educational theatre association in America -- May Its Soul Go Marching On!