A Framework for Site Analysis with Emphasis on Feng Shui and Contemporary Environmental Design Principles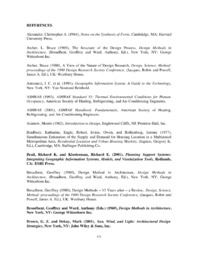 View/Open
Downloads: 293
Downloads: 707
Downloads: 4959
Downloads: 438
Downloads: 595
Downloads: 446
Downloads: 1166
Downloads: 310
Downloads: 361
Downloads: 8585
Date
2003-09-30
Abstract
This research proposes a new site analysis methodology in the form of an integrated framework. The framework separates the site analysis process into different models, incorporates each model, and considers the interaction between them. The most important models are the environmental models (climate, geology, hydrology, topography, and vegetation models), social-cultural models, economic models, and infrastructure models. Each model also contains several important factors.
The study identifies and organizes environmental factors within the framework that influence site analysis and design. Based on the applicability of feng shui principles and their interpretations into measurable factors, this research compares and incorporates feng shui and contemporary environmental design theories, and summarizes essential environmental factors. The emphasis on environmental factors from these models may lead to a better understanding of the relationships between humankind and the natural environment.
The proposed framework is implemented into a computer simulation program, titled SiteOne, to demonstrate the concepts and ideas, with an emphasis on environmental factors. This research uses the town of Reston in Fairfax County, Virginia, as the study area because of the availability of information. SiteOne analyzes a range of alternatives and then derives solutions from the suggested site conditions in the form of GIS maps. There are various modules that make up the prototype system: namely an analysis module, a database module, and a result generation module. SiteOne helps professionals collect a wide range of information and select corresponding criteria in the early stages of design. It also provides visual analysis based on selected criteria and models. Therefore, it can act as an educational knowledge component for professionals as well as the general public.