A STUDY OF VIRGINIA ADMINISTRATORS with RESPONSIBILITY for DIVISION SPECIAL EDUCATION SERVICES and KNOWLEDGE of SPECIAL EDUCATION SCHOOL LAW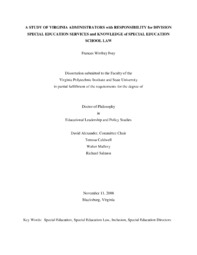 View/Open
Downloads: 115
Downloads: 24
Date
2008-11-11
Author
Ivey, Frances Winfrey
Abstract
This study investigated the knowledge of special education directors or division designees in school divisions across the Commonwealth of Virginia. One-hundred-twenty-nine Virginia special education directors or division designees were sent an on-line assessment describing 22 hypothetical scenarios representing current legal issues in the area of special education law as prescribed by the Individuals with Disabilities Education Improvement Act (IDEA) and No Child Left Behind (NCLB). The instrument used in this study was adapted from the Power (2007) study with a revision of response choices to provide more definitive results. A demographic questionnaire was adapted to determine individual and school division characteristics pertinent to the study. A total of 87 division special education administrators responded, a 67% response rate. After initial analysis, 84 assessments were usable. The statistical package JMP-Software for Univariate and Multivariate Statistics (2005) was used to tabulate the responses and to examine the relationships between demographic variables and respondentsâ knowledge of special education law. Descriptive statistics were applied to identify deficiencies in the respondentsâ knowledge base. Results of this study yielded a mean total score of 80.3% on the online assessment. Respondents scored below the mean in the areas of free and appropriate education, related services, student discipline, and liability for reimbursement to parents. There was no statistically significant relationship between knowledge of special education law and any of the following demographic characteristics: size of the school division, previous special education teacher experience, number of years as a special education director, highest degree attained, percent of time devoted to special education responsibilities, and attendance at special education law workshops. Respondents who belonged to professional organizations scored significantly higher on the assessment than those who did not. The assessment also compared methods of remaining current with special education law and the respondentsâ knowledge of the law. The following methods yielded a statistically significant relationship with knowledge of special education law: reading professional organization bulletins, attending professional development seminars, and using â otherâ means. The results of this study will be used to recommend professional development on the interpretation and implementation of special education law at the school-division and college/university levels.
Related items
Showing items related by title, author, creator and subject.
Associate Vice President University Relations

(

Virginia Tech. University Relations,

2003-20-02

)

The Special Committee on Research of the Virginia Tech Board of Visitors and the Virginia Bioinformatics Institute (VBI) Policy Committee will meet on Monday, Feb. 24. The Research Committee will meet at 10 a.m. in 2100 ...

Hincker, Lawrence

(

Virginia Tech. University Relations,

2006-09-11

)

The Virginia Tech Board of Visitors Building and Grounds Committee will hold a special meeting Saturday, Sept. 16, at 8 a.m., in the Huckleberry Room of The Inn at Virginia Tech.