Training Needs Assessment as an Action Research Intervention in a Federal Agency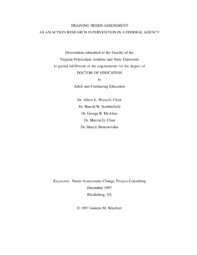 View/Open
Downloads: 140
Downloads: 446
Downloads: 111
Downloads: 115
Date
1997-12-13
Author
Wiechert, Annette M.
Abstract
Consultants are frequently called to help organization leaders identify and solve problems. However, few research reports reveal the holistic nature of the process. This case study helps fill that void with naturalistic inquiry into a process consulting intervention. This action research describes an external consultant's intervention with leaders of a large federal agency over an 18-month period to help conduct and implement a training needs assessment (TNA). A naturalistic inquiry design used multiple methods to gather quantitative and qualitative data through three action cycles. The first cycle describes the TNA process and deliverables answering the organization's questions "What training was required and was being done, for whom, by whom, at what cost?" The second cycle revolves around the research questions "How do the organization's leaders view, value and make use of the TNA?" and "What happens as a result of the consultant/researcher's intervention?" The third cycle answers the question "What are the organizational dynamics that facilitate or inhibit the adoption of planned change?" Research findings were:
1) Organizational leaders valued and used the TNA to reorganize and centralize their training;
2) The intervention provided documentation and recommendations for short and long-term planned changes;
3) Cultural biases cast training as important but a low priority with hierarchical structures complicating centralizing actions.
The case study frames complex change through a systems perspective that combined theories from multiple disciplines. Action learning in the process reflects the paradoxes of learning that are often unrecognized and ususally unreported. The open-ended nature of the inquiry reveals the need for a high tolerance for ambiguity, extensive knowledge, flexibility, networking ability, and trust in the process. Research theories, methodologies, and assumptions were reassessed with some revealing conclusions: action research is not intuitively obvious nor widely recognized in fields of practice reinforcing the need to continuously improve ways to intervene.
Future recommendatios are to: encourage more candid holistic reporting of action research; recognize that traditional research paradigms make action research riskier to pursue and defend; encourage leaders in all fields to continuously develop and use more tools, models, and networks to help improve our future organizations.