VTechWorks is currently undergoing indexing. There may be some unusual behavior with item visibility on February 24, 2018, until the index is complete. Please contact vtechworks@vt.edu if there are continuing difficulties.
Finding a Crystal Stair: Exploring the Turn-Around Phenomenon Experienced by African American Urban Male Adolescents in High School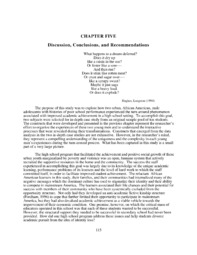 View/Open
Downloads: 105
Downloads: 132
Downloads: 73
Date
1997-11-03
Author
Boddie, Jacquelyn Lynnette
Abstract
The educational disenfranchisement of many urban, African American male adolescents aggravates the complex social and economic issues which America must reconcile. Two significant behaviors resulting from young Black men's disaffection are school failure and violence against the community. The sense of futility in these youth can nullify the possibility of their positive contributions to society. Many of the social structures that were once in place to provide support for the African American community were weakened during the sixties; and the need for structure and support is as critical today among young Black men as it has ever been. This study sought to understand the perspectives of these young African Americans when they modified their at-risk behaviors to become academically successful in high school. It was based on one school's example of supportive systems and behaviors designed to intervene and encourage their transformation. A qualitative case study research design was selected because it allowed the researcher to examine and holistically interpret the complexities of achievement-related issues at school, at home and in the community, during the process of their transformation. Based on the recommendations of administrators and teachers, a sample pool of 10 young men was developed; each was interviewed. Two young men were selected for in-depth interview, observation, and document analysis. The study found that the young men became successful by (a) responding to the school's specialized organic and institutional care systems; (b) responding to the reconfiguration of the anti-academic fictive kinship culture; (c) bonding with culturally synchronous sensitive role models; (d) benefiting from the school's staff development initiative; (e) responding to their parents' school involvement; and (f) experiencing these accentuated dynamics in a smaller annex building. Data analysis was based on the tenets of grounded theory developed by Glaser and Strauss. This research fills part of the gap in the literature which explores the dynamics of transformation in anti-academic, African American male adolescents, as they become academically successful. Insights evolving from this study will also help to fill the vacuum that exists in developing high school programs that effectively change their attitudes towards learning and promote their success.