VTechWorks staff will be away for the Memorial Day holiday on Monday, May 27, and will not be replying to requests at that time. Thank you for your patience.
Improved Properties of Natamycin Upon Formation of Cyclodextrin Inclusion Complexes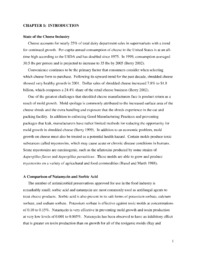 View/Open
Downloads: 332
Downloads: 185
Downloads: 181
Downloads: 226
Downloads: 281
Downloads: 289
Downloads: 55
Date
2003-02-06
Abstract
     
Natamycin is an antimycotic with very low water solubility and extremely high photosensitivity, which is used to extend the shelf life of shredded cheese products. The objectives of this research are: (a) to find a new delivery system for natamycin, which increases its aqueous solubility and (b) to increase the chemical stability of natamycin so that it has a prolonged antifungal effect on the surface of the shredded cheese.
      Molecular inclusion complexes of natamycin were formed with b-, hydroxypropyl b-, and g-cyclodextrins (CDs) which allowed large increases in aqueous solubility without the use of organic co-solvents or surfactants. The water solubility of natamycin was increased 16-fold, 73-fold, and 152-fold with b-CD, g-CD, and hydroxypropyl b-CD, respectively. The natamycin:CD inclusion complexes resulted in nearly equivalent in vitro antifungal activity as natamycin in its free state. Nuclear magnetic resonance (NMR) was utilized to prove the formation of true inclusion complexes. 1H NMR shift titrations of N-(3â -N-dimethylaminosuccimido) natamycin with b- and g-CDs enabled determination of the stoichiometry of both complexes as 1:1. Aqueous solutions of natamycin (20 mg/L) were found by quantitative HPLC to be completely degraded after 24 hours of exposure to 1000 lux fluorescent lighting at 4 °C. After 14 days of storage in darkness at 4 °C, 92.2% of natamycin remained in active form. Aqueous solutions of natamycin:b-CD complex and natamycin:g-CD complex were significantly more stable (p < 0.05) than natamycin in its free state when stored in darkness at 4 °C. Clear poly(ethylene terephthalate) packaging with an ultraviolet light absorber allowed 85.0% natamycin to remain after 14 days of storage under 1000 lux fluorescent lighting at 4 °C. Such dramatic increases in water solubility and light stability will enable natamycin to function as a more effective antimycotic in the food industry.