Effect of liquid waste addition on the overall performance of anaerobic bioreactor landfill.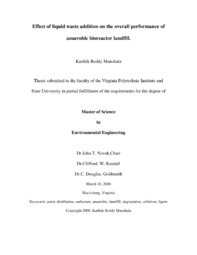 View/Open
Downloads: 56
Downloads: 29
Downloads: 75
Downloads: 24
Date
2008-03-18
Author
Manchala, Karthik Reddy
Abstract
The effect of high organic liquid wastes on the overall performance of anaerobic bioreactor landfills is not known. In this study three different liquid wastes were added to mix of office paper, newspaper, cardboard and plastic in 3 different concentrations under anaerobic conditions to determine their effect on degradation of organics. The addition of buffer chemicals was found to improve degradation compared to data from an earlier study done without the addition of initial buffering. Paint waste with a COD 237,500 mg/L added at a concentration of 10% did not show any negative effect on the overall performance. The distillation waste with a COD of 812,500 mg/L added at 5% and higher concentration resulted in accumulation of volatile fatty acids and strong inhibition. The surfactant waste added at concentrations up to 1500 mg/L showed some inhibition but the overall performance was good. The surfactant waste also appeared to improve lignin degradation.