Assessing Campus Community in the Twenty-First Century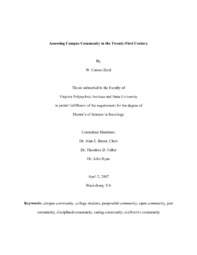 View/Open
Downloads: 143
Downloads: 11
Date
2007-04-02
Abstract
The sociological implications of studying campus communities can lead to breakthroughs not only in teaching and improving learning environments, but provide unique and helpful programs to aid diversity, promote unity, and decrease social inequality on campus and in American society. This study applied Boyerâ s campus community model to assess the campus communities of a private liberal arts college and a public state research university in the Mid-Atlantic. Using a modified version of the College and University Community Inventory (CUCI) administered through a web-based survey software, data on student perceptions of the different aspects of campus community identified by Boyer were collected and analyzed using factor analysis and regression analysis. The factor analysis led the researcher to propose modifications to the survey instrument. The regression analysis found several significant characteristics of undergraduate students and their institutions that can influence their perceptions of the campus community. A discussion of the findings and the implications of the study are presented. The results reported in this study have lead to several recommendations to be developed to enhance and improve the study of the campus community and environment in higher education using the CUCI.
Related items
Showing items related by title, author, creator and subject.
Creager, Cheryl Wax

(

Virginia Tech,

1976-05-15

)

Bennington, J. Bret

(

Virginia Tech,

1995-11-06

)

Four intervals of Middle Pennsylvanian marine strata in the Breathitt Formation of eastern Kentucky, the Elkins Fork, Kendrick, Magoffin, and Stoney Fork, were measured, sampled for fossils, and described. Each marine ...