VTechWorks staff will be away for the Memorial Day holiday on Monday, May 27, and will not be replying to requests at that time. Thank you for your patience.
Of Time and Place / A Municipal Government Facility in Edenton, NC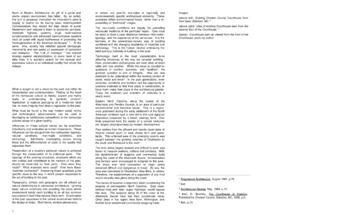 View/Open
Downloads: 437
Downloads: 101
Downloads: 93
Downloads: 82
Downloads: 101
Downloads: 104
Downloads: 196
Downloads: 107
Date
1995-07-02
Abstract
Project Abstract : Through the design of a municipal complex for Chowan County, North Carolina, the intention is to examine what it means to design with a sense of place that is an extension of the regionâ s past. Regionalism has been trivialized to be as simplistic as the practice of attaching community-accepted stylistic embellishment to any new building. This is unfortunately done without historic examination of place. All too often the desire is for a historic connection through iconographic application. This usually results in a farce that mocks and devalues the past and present. This is an honest examination of past building and community nuances for translation and inclusion in the development of a new municipal complex, to be built using contemporary construction methods.