VTechWorks staff will be away for the Memorial Day holiday on Monday, May 27, and will not be replying to requests at that time. Thank you for your patience.
Design of a Cyclic Sliding, Dynamically Loaded Wear Testing Device for the Evaluation of Total Knee Replacement Materials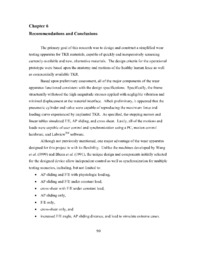 View/Open
Downloads: 303
Downloads: 295
Downloads: 172
Downloads: 223
Downloads: 211
Downloads: 122
Downloads: 347
Downloads: 134
Date
2001-07-30
Author
Thompson, Matthew Thomas
Abstract
During normal walking, the relative motion of the human knee involves flexion/extension, anterior/posterior sliding, and medial/lateral rotation. As well, the knee experiences a complex, dynamic loading curve with a peak of up to seven times body weight. However, most wear testing machines that have been used to evaluate total knee replacement materials are unidirectional and/or apply only static force. This thesis presents an alternate wear testing device capable of simulating the most prevalent motions of the knee, and applying physiologically-correct loading to the material interface. By incorporating a CoCr disc, an UHMWPE block, stepping motors, pneumatic components, computer control, and linear tables in an x-y configuration, the device is capable of quickly screening new and alternative materials to UHMWPE before evaluating them on a much more expensive knee simulator. In addition, flexibility of the device allows programming of many different motion and loading configurations permitting materials testing under only certain circumstances, or evaluating the effects on wear of specific motions. Design rationale, development, validation, and future recommendations are presented.