Optical Fiber Tip Pressure Sensor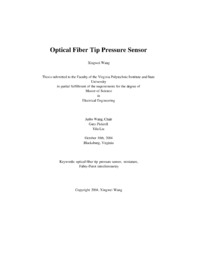 View/Open
Downloads: 322
Downloads: 284
Downloads: 163
Date
2004-10-18
Abstract
Miniature pressure sensors which can endure harsh environments are a highly sought after goal in industrial, medical and research fields. Microelectromechanical systems (MEMS) are the current methods to fabricate such small sensors. However, they suffer from low sensitivity and poor mechanical properties.
To fulfill the need for robust and reliable miniature pressure sensors that can operate under high temperatures, a novel type of optical fiber tip sensor only 125μm in diameter is presented in this thesis. The essential element is a piece of hollow fiber which connects the fiber end and a diaphragm to form a Fabry-Pérot cavity. The all-fused-silica structure fabricated directly on a fiber tip has little temperature dependence and can function very well with high resolution and accuracy at temperatures up to 600ï °C. In addition to its miniature size, its advantages include superior mechanical properties, biocompatibility, immunity to electromagnetic interference, disposability and cost-effective fabrication.
The principle of operation, design analysis, fabrication implementation and performance evaluation of the sensor are discussed in detail in the following chapters.