Predictors of Management Preferences Among Riverfront Landowners and Boaters on The Great Egg Harbor River: A Study of Stakeholders in a Multi-Jurisdictional Setting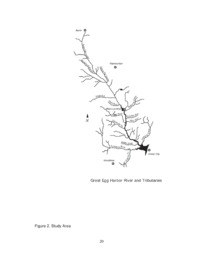 View/Open
Downloads: 118
Downloads: 128
Downloads: 171
Downloads: 80
Date
1999-10-29
Author
Adcock, Ambre Michelle
Abstract
The purpose of this study was twofold: (1) to determine the extent to which boaters and riverfront landowners on the Great Egg Harbor River are similar or different in perceptions of environmental and social conditions and preferences for management; and (2) to explore factors that contribute to riverfront landowners' and visitors' opinions about possible management decisions for the river. The Great Egg Harbor River represents a complex challenge, with designation as a unit of the Wild and Scenic River system, overseen by the National Park Service, but ownership by twelve municipalities and hundreds of private landowners. Understanding similarities and differences between stakeholders is especially important in such a setting.
Data were collected by on-site contact forms for boaters and a 12-page mailback questionnaire for both boaters and riverfront landowners. The final sample size for the mail survey was 428, representing an overall response rate of 44%.
Boaters and landowners reported similar evaluations of general crowding and conflict, but landowners were significantly more sensitive to conflicts between boaters and landowners than were boaters. In terms of environmental issues, boaters were significantly more disposed to pro-environmental attitudes than were landowners. Landowners evaluated recreational developments more negatively than did boaters.
With respect to management preferences, boaters and landowners did not significantly differ in their evaluation of increased law enforcement and actions that would restrict development and recreational use. On average, both groups supported these types of management actions. However, boaters and landowners significantly differed in their evaluation of management actions that provide additional river access. Although both groups generally opposed additional access, landowners were more opposed to these actions than were boaters. In addition, boaters were more supportive of visitor services than were landowners.
Although classification as boater or landowner contributed to preferences for some management actions (increased law enforcement and additional river access), other variables were better predictors of these preferences. Pro-environmental attitudes contributed to preferences for increased law enforcement, restrictions on development and recreational use, and visitor services. Attitudes about development also influenced preferences for increased law enforcement and restrictions, but contributed to preferences for additional river access as well. Other explanatory variables included perceptions of general conflict and activity preference (motorized or non-motorized). These variables contributed to preferences for increased law enforcement and restrictions on development and recreational use.
Results from this study indicate that managers need to better understand the correlates of management support in order to meet a more diverse set of visitor needs. Understanding the contribution of a variety of variables in management preferences will likely help resource managers better understand stakeholder groups and how they will respond to proposed management actions. Managers can use such information to better communicate river management goals, thus fostering more widespread constituency support for proposed actions.