VTechWorks staff will be away for the Thanksgiving holiday starting at noon on Wednesday, November 21, through Friday, November 23, and will not be replying to requests during this time. Thanks for your patience, and happy holidays!
Environmental Impacts of Foreign Direct Investment in the Pearl River Delta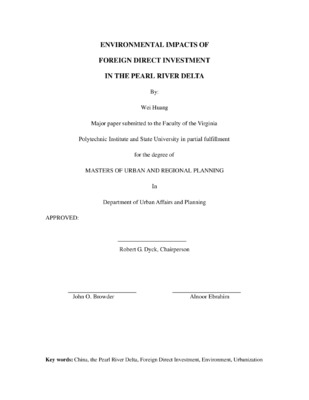 View/Open
Downloads: 139
Downloads: 110
Downloads: 101
Downloads: 140
Downloads: 123
Downloads: 196
Downloads: 89
Downloads: 158
Downloads: 165
Downloads: 49
Downloads: 69
Downloads: 197
Downloads: 53
Downloads: 156
Downloads: 169
Downloads: 76
Downloads: 71
Date
2002-04-23
Abstract
The paper is aimed to trace and explain the relationship between foreign direct investment (FDI) and local natural environment changes in the Pearl River Delta (PRD). The purpose is threefold: to make a connection between the environmental problems and global economic forces; develop a model to identify if FDI is one of the major cause of the environmental changes in the PRD; and identify how FDI interacts with the local environmental policy-making process. The study reviews a wide range of literature on China¡¯s and international economic and environmental development. A tentative model is built based on existing theoretical frameworks to present the complex relationship between FDI and environment, followed by two case studies on Guangzhou and Dongguan, two cities in the PRD of different development patterns. Although FDI acts as the major economic catalyst in the region, my analysis does not show a linear relationship of FDI and environmental pollution. However, positive relationship among government regulations, FDI, and environment can be established to achieve sustainable development.