Investigation of Ultimate Strength of Composite Open-Web Joist-Girders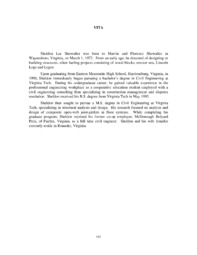 View/Open
Downloads: 38
Downloads: 55
Downloads: 51
Date
1999-09-16
Author
Showalter, Sheldon Lee
Abstract
The goal of this research was to study several methods of generating composite action using open-web joist-girders, designed and manufactured by Nucor Corporation. In addition to comparing the relative performance of these systems, it was intended to determine whether the current accepted design procedure for composite joists could be extended to joist-girders.
Related items
Showing items related by title, author, creator and subject.
Koch, Stephanie

;

Roberts-Wollmann, Carin L.

(

Virginia Center for Transportation Innovation and Research,

2008-11-01

)

, FHWA/VTRC 09-CR1

This research focused on prestressed concrete bulb-T (PCBT) beams made composite with a cast-in-place concrete deck and continuous over several spans through the use of continuity diaphragms. The current design procedure ...

Widjaja, Matius Andy

(

Virginia Tech,

2003-02-04

)

THE INFLUENCE OF THE RECOMMENDED LRFD GUIDELINES FOR THE SEISMIC DESIGN OF HIGHWAY BRIDGES ON VIRGINIA BRIDGES by Matius A. Widjaja Committee Chairwoman: Prof. Carin Roberts-Wollmann Civil Engineering (ABSTRACT) The ...

Archibald, Charles Mark

(

Virginia Tech,

1993-07-04

)

Modal analysis is the expermental characterization of the dynanlical behavior of a structure. Recent advances in laser velocimetery have made available to the experimentalist a rich, new source of vibration data. Data ...