VTechWorks staff will be away for the Thanksgiving holiday beginning at noon on Wednesday, November 22, through Friday, November 24, and will not be replying to requests during this time. Thank you for your patience, and happy holidays!
Secure Network-Centric Application Access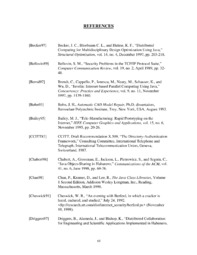 View/Open
Downloads: 36
Downloads: 56
Downloads: 37
Downloads: 29
Downloads: 32
Downloads: 72
Downloads: 43
Downloads: 40
Date
1998-09-17
Abstract
In the coming millennium, the establishment of virtual enterprises will become increasingly common. In the engineering sector, global competition will require corporations to create agile partnerships to use each other's engineering resources in mutually profitable ways. The Internet offers a medium for accessing such resources in a globally networked environment. However, remote access of resources require a secure and mutually trustable environment, which is lacking in the basic infrastructure on which the Internet is based. Fortunately, efforts are under way to provide the required security services on the Internet. This thesis presents a model for making distributed engineering software tools accessible via the Internet. The model consists of an extensible client-server system interfaced with the engineering software tool on the server-side. The system features robust security support based on public-key and symmetric cryptography. The system has been demonstrated by providing Web-based access to a .STL file repair program through a Java-enabled Web browser.