Cefazolin Concentration in Surgically Created Wounds Treated with Negative Pressure Wound Therapy Compared to Surgically Created Wounds Treated with Nonadherent Wound Dressings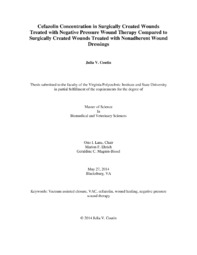 View/Open
Downloads: 1227
Downloads: 160
Date
2014-06-25
Author
Coutin, Julia Viviana
Abstract
Our objective was to compare cefazolin concentrations in biopsied tissue samples collected from surgically created wounds treated with negative pressure wound therapy to those collected from surgically created wounds treated with nonadherent dressings. The study design was a prospective, controlled, experimental study. The animal population included 12 female spayed beagles. We hypothesized there would be a difference between the cefazolin concentrations of wounds treated with negative pressure wound therapy when compared to the cefazolin concentrations of wounds treated with nonadherent dressings. Surgical methods were as follows: Full thickness cutaneous wounds were created on each antebrachium (n=24). Following surgery, cefazolin (22 mg/kg) was administered intravenously to each of the dogs and continued every 8 hours during the study. The right wound was randomly assigned to group I or group II while the wound on the contralateral antebrachium was assigned to the other group. Group I wounds were treated with negative pressure wound therapy (NPWT) and group II wounds were treated with nonadherent dressings for 3 days. Dressings were changed and tissue biopsies obtained from wound beds at 24-hour intervals for both groups. Cefazolin wound tissue and plasma concentrations were measured by liquid chromatography mass spectrometry (LC-MS/MS). Blood samples for measuring plasma cefazolin concentrations were collected prior to biopsy sampling. At the time of surgery and at each bandage change, wound beds were swabbed and submitted for aerobic and anaerobic culture. Our results revealed that after initiating cefazolin treatment, wound tissue antibiotic concentrations between treatment groups were not significantly different at any sampling time. Similarly, after initiating cefazolin treatment, plasma cefazolin concentrations were not significantly different at any sampling time for individual dogs. We concluded that using a canine experimental model, NPWT treatment of surgically created wounds does not statistically impact cefazolin tissue concentrations when compared to conventional nonadherent bandage therapy
Related items
Showing items related by title, author, creator and subject.
Brunais, Andrea

(

Virginia Tech. University Relations,

2010-09-28

)

It's common knowledge that many service members returning from Iraq and Afghanistan suffer from PTSD and depression. A Virginia Tech-led survey of 2,000 Virginia veterans found that U.S. military screening procedures ...

Nguyen, Vinh Dinh

(

Virginia Polytechnic Institute and State University,

1988

)

Moore, K

;

Ghatnekar, G

;

Gourdie, RG

;

Potts, JD

(

2014

)

The alpha-carboxy terminus 1 (αCT1) peptide is a synthetically produced mimetic modified from the DDLEI C-terminus sequence of connexin 43 (Cx43). Previous research using various wound healing models have found promising ...