Nonlinear Viscoelastic Behavior of Ligaments and Tendons: Models and Experiments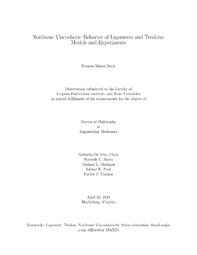 View/Open
Downloads: 1138
Downloads: 161
Date
2013-06-04
Author
Davis, Frances Maria
Abstract
Ligaments and tendons are rope-like structures in our body that possess time- and history- dependent material properties. Despite the many advances made in experimental and theoretical biomechanics, the material properties of these biological structures are still not fully characterized. This dissertation represents a step forward in the development of combined theoretical and experimental tools that capture the time- and history-dependent material properties of ligaments and tendons.

The mechanical behavior of bundles of collagen fibers which form ligaments and tendons was investigated. Axial stress-stretch data and stress relaxation data at different axial stretches were collected by testing rat tail tendon fascicles. The experimental results demonstrated, for the first time, that the shape of the normalized axial stress relaxation curve depends on the axial stretch level thus suggesting that the fascicles are nonlinear viscoelastic. A constitutive model was then formulated within the nonlinear integral representation frame- work proposed by Pipkin and Rogers (1968). Unlike the well-known quasi-linear viscoelastic model, the proposed constitutive law was able to capture the observed nonlinearities in the stress relaxation response of rat tail tendon fascicles.

By extending the constitutive model for collagen fiber bundles, a new nonlinear three- dimensional model for the stress relaxation of skeletal ligaments was formulated. The model accounts for the contribution of the collagen fibers and the group substance in which they are embedded. Published uniaxial experimental data on the stress relaxation of human medial collateral ligaments were used to determine the model parameters. The model predictions for simple shear in the fiber direction, simple shear transverse to the fiber direction, and equibiaxial extension were then examined and, for the case of simple shear in the fiber direction, such predictions were found to be in good agreement with published experimental data.

The relationship between the mechanical response and structure of suspensory ligaments was examined by performing state-of-the-art small angle x-ray diffraction experiments in tandem with incremental stress relaxation tests. Specifically, small angle x-ray diffraction was used to measure changes in strain and orientation of collagen fibrils during the stress relaxation tests. Throughout the tests the collagen fibrils were found to gradually orient towards the loading direction. However, the collagen fibril strain did not change significantly suggesting that collagen fibers do not play a significant role in dissipating load during stress relaxation.