VTechWorks staff will be away for the Thanksgiving holiday beginning at noon on Wednesday, November 22, through Friday, November 24, and will not be replying to requests during this time. Thank you for your patience, and happy holidays!
In-System Testing of Configurable Logic Blocks in Xilinx 7-Series FPGAs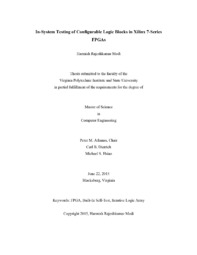 View/Open
Downloads: 2161
Downloads: 187
Date
2015-07-30
Author
Modi, Harmish Rajeshkumar
Abstract
FPGA fault recovery techniques, such as bitstream scrubbing, are only limited to detecting and correcting soft errors that corrupt the configuration memory. Scrubbing and related techniques cannot detect permanent faults within the FPGA fabric, such as short circuits and open circuits in FPGA transistors that arise from electromigration effects. Several Built-In Self-Test (BIST) techniques have been proposed in the past to detect and isolate such faults. These techniques suffer from routing congestion problems in modern FPGAs that have a large number of logic blocks. This thesis presents an improved BIST architecture for all Xilinx 7-Series FPGAs that is scalable to large arrays. The two primary sources of overhead associated with FPGA BIST, the test time and the memory required for storing the BIST configurations, are also reduced when compared to previous FPGA-BIST approaches. The BIST techniques presented here also eliminate the need for using any of the user I/O pins, such as a clock, a reset, and test observation pins; therefore, it is suitable for immediate deployment on any system with Xilinx 7-Series FPGAs. With faults detected, isolated, and corrected, the effective MTBF of a system can be extended.