VTechWorks staff will be away for the Thanksgiving holiday beginning at noon on Wednesday, November 22, through Friday, November 24, and will not be replying to requests during this time. Thank you for your patience, and happy holidays!
Risk Aversion and Adoption of Conservation Agriculture Practices in Eastern Uganda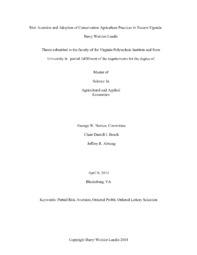 View/Open
Downloads: 470
Downloads: 43
Date
2014-07-03
Author
Weixler-Landis, Barry
Abstract
Many poor farmers, especially in Africa, have not adopted recent farming innovations to improve their yields. One theory is that poor farmers are risk averse and therefore do not invest in high risk high return innovations and that risk averse farmers will only adopt larger innovations if they experience success with small ones. Risk preferences were measured in two districts in Uganda (Tororo and Kapchorwa) where adoption of agricultural innovations has been slow, and where a program is underway to encourage use of conservation agriculture practices (CAPs) to reduce soil erosion and sequester carbon. An ordered lottery selection was used to measure risk preferences and an ordered probit model was estimated. Thirty five percent of a random sample of 200 farmers in Tororo (and fifty three percent of 200 farmers in Kapchorwa) made lottery choices that implied severe or extreme risk aversion. However there was no indication that risk preferences correlate with willingness to adopt new technologies (such as CAPs). Neither wealth nor previous success with technology adoption were found to correlate with farmers' risk preferences.