Can vegetables be more productive under tree based systems?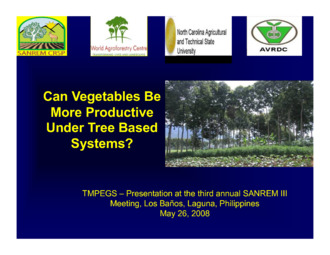 View/Open
Downloads: 41
Downloads: 256
Date
2008
Author
Mercado, Agustin R. Jr.
Abstract
This presentation discusses research on the potential of integrating tree crops into vegetable crop systems in Southeast Asia, working from the hypothesis that "in intensive vegetable production system in the uplands, monoculture systems are not sustainable, but integrating trees is feasible and offers better prospects." The economic viability of vegetable agroforestry systems can be improved by taking the recommended steps to decrease tree-vegetable competition, increase tree-vegetable complementarity, and use valuable trees.