Building a tool for determining e-learning readiness in organizations: A design and development study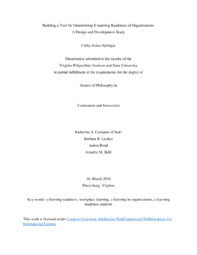 View/Open
Downloads: 4111
Downloads: 174
Date
2016-05-04
Author
James-Springer, Cathy Daria
Abstract
E-learning continues to gain popularity as a way of delivering instruction in the workplace. However, adoption of e-learning is often considered without determining organizational readiness for e-learning. Comacchio and Scapolan (2004) found that bandwagon pressures such as fear of losing competitive advantage often drive e-learning adoption decisions. Many organizations use various types of analysis to determine instructional need but often at a course level. An e-learning readiness analysis tool will add to existing tools but focus on the workplace organization as the unit of study. The purpose of this design and development study is to create an analysis tool for determining e-learning readiness in organizations. Four existing e-learning readiness models, Aydin and Tasci (2005); Chapnick (2005); Borotis and Poulymenakou (2005) and Psycharis (2005), were used as a basis for identifying factors affecting e-learning readiness which informed the tool design. Using developmental research-based practices the tool was developed for use by practitioners. This study describes the design and development of the tool and the expert review used in the validation of the tool.
Related items
Showing items related by title, author, creator and subject.
Butler, William Hale

(

Virginia Tech,

2009-07-27

)

Since the 1970s, the institution of fire management has been in a frustrated transition from fire suppression and control to ecologically informed fire management. Administrative boundaries, professional specializations ...

Hunter, Patricia Ann

(

Virginia Polytechnic Institute and State University,

1976

)

Mahadevan, Shankar

(

Virginia Tech,

2002-06-28

)

Digital libraries are fast expanding into the role of independent educational entities that aspire not only to complementing traditional classroom teaching, but also allow open electronic learning for distance and continued ...