VTechWorks staff will be away for the Thanksgiving holiday beginning at noon on Wednesday, November 22, through Friday, November 24, and will not be replying to requests during this time. Thank you for your patience, and happy holidays!
Micro-Aggression Video Vignettes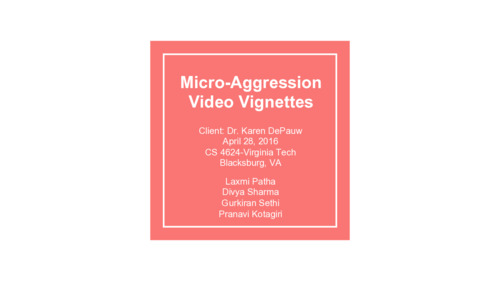 View/Open
Downloads: 121
Downloads: 293
Downloads: 418
Downloads: 257
Date
2016-05-10
Author
Sharma, Divya
Patha, Laxmi Harshitha
Sethi, Gurkiran
Kotagiri, Pranavi
Abstract
The goal of our project is to construct video vignettes of scenarios illustrating different types of micro-aggressions. Micro-aggressions are the everyday verbal, nonverbal, and environmental slights, snubs, or insults, whether intentional or unintentional, that communicate hostile, derogatory, or negative messages to target persons based solely upon their marginalized group membership (from Diversity in the Classroom, UCLA Diversity & Faculty Development, 2014). Interactions and conversations between peers and faculty are never-ending. The biggest concern related to micro-aggression is that individuals may not even know that they are committing a micro-aggression, which is why we want to inform as many individuals as we can about this topic. In fact, a micro-aggression can even occur when someone is giving a compliment. By raising micro-aggression awareness we can have safer, more alert and more intelligent interactions. We created videos displaying different types of micro-aggression events. We have completed shooting and editing of three videos, each with length in the 1-3 minute range. The editing was done in the Innovation Space Center in Torgersen Hall, and the resulting videos are available through YouTube. We have also completed preliminary work on the fourth video. The raw files for the videos are located in the Innovation Space in the "Save Work Here" folder under the names "Sharma" and "Patha". With these videos the overall goal is to garner attention and awareness regarding micro-aggressions that take place on a day-to-day basis. We hope that our videos can be a stepping-stone to finding a solution to an everyday problem, possibly inspiring others to produce additional videos on this important topic.
Collections