VTechWorks staff will be away for the Thanksgiving holiday beginning at noon on Wednesday, November 22, through Friday, November 24, and will not be replying to requests during this time. Thank you for your patience, and happy holidays!
Gender and Pest Management in Ghana: Implications for the Introduction of an IPM Program for Tomato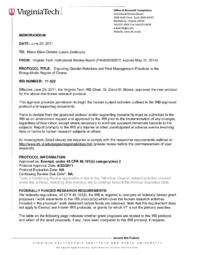 View/Open
Downloads: 12
Downloads: 43
Date
2012-04-20
Abstract
The purpose of this research is to identify gender-based constraints and opportunities to the introduction of an Integrated Pest Management (IPM) program for tomato crops based on a case study of tomato farmers in the town of Tuobodom in the Brong Ahafo region of Ghana. The study seeks to identify the knowledge, practices, perceptions, and access to resources of men and women tomato farmers in Tuobodom, specifically with respect to pesticides and pest management. A mixed methods approach combined quantitative and qualitative methodologies including focus group discussions, household interviews, participatory mapping, field visits, key informant interviews, participant observation, and a survey. Key findings in the areas of health and safety, markets and the tomato value chain, and information and training reveal general and gender-specific issues that an IPM program should address when working with farmers to develop an effective and sustainable IPM package for tomato in this area. The results of this study also demonstrate the importance of gender analysis in identifying context-specific gender issues. For example, while this study confirmed that men's roles in tomato production place them at higher risk of exposure to pesticides, results challenge the assumption that women's reproductive roles (e.g., food preparation, caring for the sick, and washing clothes) make them more aware of the risks of pesticides.