VTechWorks staff will be away for the Memorial Day holiday on Monday, May 27, and will not be replying to requests at that time. Thank you for your patience.
Interactive Close Reading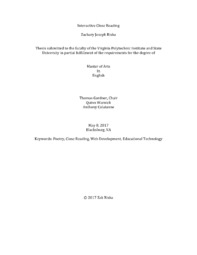 View/Open
Downloads: 271
Downloads: 11
Downloads: 34
Date
2017-06-05
Author
Risha, Zachary Joseph
Abstract
Over the past two decades, the readership of poetry has declined to the point that the art form is seldom engaged with by the public. I argue that reading poetry requires a skillset that must be learned, practiced, and refined. While close reading is traditionally trained in college classrooms, such spaces cannot reach broad audiences. To address this dearth, I have developed a web app that applies interactive learning strategies, through a series of exercises, to cultivate expert reading practices in novice users. Close Reading will guide users through poems by Robert Frost. With each poem, users will progress through exercises grounded in the practices of expert readers. For instance, users will block poems into sections to allow a chunking of the material, slowing down novice reading speeds. Another exercise cognitively models the act of reading by displaying the sequential thoughts of a reader making sense of a work. Furthermore, Socratic questioning will attempt to stimulate an internal dialogue to foster focus and interpretation. These exercises will build on one another and attempt to replicate pedagogical processes observed in the classroom. Performing these pedagogical exercises will provide a resource for developing the skillset necessary for poetry appreciation. This ambitious digital humanities project experiments with a new venue for pedagogy and poetry, promoting an engagement with the public frequently neglected in academic work.