Examining the Effects of Horizontal Conflict in Regulatory Fit Theory in the Context of Performance Feedback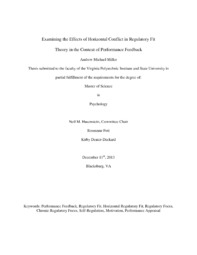 View/Open
Downloads: 62
Downloads: 9
Date
2013-12-11
Abstract
This study extends Regulatory Fit Theory (Higgins, 2000) to examine horizontal regulatory fit (Scholer & Higgins, 2010) in the context of performance feedback. Participants completed the Regulatory Focus Questionnaire (Higgins et al., 2001) to measure their chronic motivational orientation, then worked on an adapted version of an in-basket task (Holmes & Hauenstein, 2012) across two sessions. Hypotheses predicted that compared to instances of non-fit, conditions of regulatory fit between chronic and situational and motivational orientations (Promotion vs. Prevention) would have a significantly greater impact on the following three outcomes: 1) Variety and Frequency of Feedback Use, 2) Feedback Recall, and 3) Attitudes toward both Feedback and the In-basket Task. Overall results supported this assertion. Participants in condition of regulatory fit engaged in a significantly greater variety of behaviors and did so more frequently than those in non-fit conditions. Additionally, participants in regulatory fit conditions had stronger positive attitudes toward feedback than those in non-fit conditions. Counter to previous research, regulatory fit did not have significant impact on feedback recall in the current study, nor did regulatory fit have a significant impact on the attitudes toward in-basket task.
Related items
Showing items related by title, author, creator and subject.
Song, Qi

;

Grene, Ruth

;

Heath, Lenwood S.

;

Li, Song

(

2017-12-15

)

Abstract Background In gene regulatory networks, transcription factors often function as co-regulators to synergistically induce or inhibit expression of their target genes. ...

DeLor, Michael J.

(

Virginia Tech,

2014-05-28

)

This study is designed to examine how much of an impact crisis or the perception of a crisis might have on Congressional policy making for private electric utilities and how the Federal Energy Regulatory Commission (FERC) ...

Ma, Liying

(

Virginia Tech,

2012-09-13

)

The objective of these studies was to investigate the milk fat synthesis regulation by transcription factors. In the first study, bovine mammary epithelial (MAC-T) cells were treated with sterol regulatory element binding ...