VTechWorks staff will be away for the Thanksgiving holiday beginning at noon on Wednesday, November 22, through Friday, November 24, and will not be replying to requests during this time. Thank you for your patience, and happy holidays!
Examining the Effects of Horizontal Conflict in Regulatory Fit Theory in the Context of Performance Feedback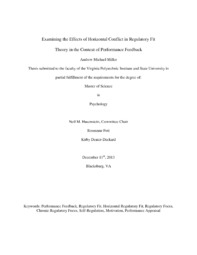 View/Open
Downloads: 10
Downloads: 3
Date
2013-12-11
Abstract
This study extends Regulatory Fit Theory (Higgins, 2000) to examine horizontal regulatory fit (Scholer & Higgins, 2010) in the context of performance feedback. Participants completed the Regulatory Focus Questionnaire (Higgins et al., 2001) to measure their chronic motivational orientation, then worked on an adapted version of an in-basket task (Holmes & Hauenstein, 2012) across two sessions. Hypotheses predicted that compared to instances of non-fit, conditions of regulatory fit between chronic and situational and motivational orientations (Promotion vs. Prevention) would have a significantly greater impact on the following three outcomes: 1) Variety and Frequency of Feedback Use, 2) Feedback Recall, and 3) Attitudes toward both Feedback and the In-basket Task. Overall results supported this assertion. Participants in condition of regulatory fit engaged in a significantly greater variety of behaviors and did so more frequently than those in non-fit conditions. Additionally, participants in regulatory fit conditions had stronger positive attitudes toward feedback than those in non-fit conditions. Counter to previous research, regulatory fit did not have significant impact on feedback recall in the current study, nor did regulatory fit have a significant impact on the attitudes toward in-basket task.
Related items
Showing items related by title, author, creator and subject.
DeLor, Michael J

(

Virginia Tech,

2014-05-28

)

This study is designed to examine how much of an impact crisis or the perception of a crisis might have on Congressional policy making for private electric utilities and how the Federal Energy Regulatory Commission (FERC) ...

Lonergan, Natalie Elaine

(

Virginia Tech,

2009-10-09

)

Non-claret disjunctional (Ncd) is a kinesin-14 microtubule motor protein involved in the assembly and stability of meiotic and mitotic spindles in Drosophila oocytes and early embryos, respectively. Ncd functions by ...

Zhu, Hong

(

Virginia Tech,

2010-12-06

)

Fruit thinning is critical to the success of apple industry because most apple trees are prone to biennial bearing characterized by heavy bloom and over-cropping in the â onâ year and low or no cropping in the â offâ ...