VTechWorks staff will be away for the Thanksgiving holiday beginning at noon on Wednesday, November 22, through Friday, November 24, and will not be replying to requests during this time. Thank you for your patience, and happy holidays!
Feasibility of Echocardiographic Particle Image Velocimetry for evaluation of cardiac left ventricular filling function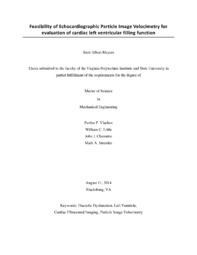 View/Open
Downloads: 9
Downloads: 4
Date
2014-08-11
Author
Meyers, Brett Albert
Abstract
Heart disease is one of the primary causes of morbidity and mortality for the adult population over the age of 65. Furthermore, ailments such as hypertension can affect as many as 50% of the adult population over the age of 45. If left untreated, these ailments eventually precipitate the onset of diastolic dysfunction and heart failure. Diastolic dysfunction is the alteration or impairment of performance in either the left or right ventricle of the heart. Although there has been a marked increase in study of this disease, there is still an apparent difficulty to diagnose patients. Flow visualization techniques have been commonly employed to study the development of these diseases as they relate to the filling process of the ventricles. One method, Echo Particle Image Velocimetry (Echo-PIV) is a relatively new method for cardiac flow chamber visualization, with the potential to provide physicians with a cost-effective and safe method for obtaining high temporal resolution recordings for extending knowledge on the filling processes in cardiac chamber flow. This work presents a new approach to extending the capabilities of Echo-PIV for more accurate measurement of cardiac flows for patients with poor quality recordings. Currently, much of the literature notes that temporal resolution and poor acoustic windows results in exclusion from study. These recordings are more representative of the contrast-enhancement studies used by physicians to better identify chamber walls. When applying standard PIV cross-correlation techniques, measurements tend to fail due to image noise and artifacts. By implementing a Moving Ensemble (MWE) with Product of Correlation (PoC) processing scheme, measurement accuracy, reliability, and robustness can be obtained for measurement in left ventricular filling assessment.