The system will be unavailable due to maintenance on Thursday July 19 from 7:00-8:30 am ET.
Performance Evaluation of Transit Signal Priority in Multi-Directional Signal Priority Request Situations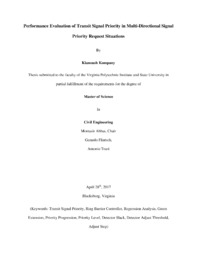 View/Open
Downloads: 104
Downloads: 37
Date
2017-06-27
Abstract
Ring Barrier signal controller in VISSIM traffic simulation software provides different options for configuring Transit Signal Priority. This controller emulator allows for considering arterial progression by Priority Progression parameter; preferring specific transit signal priority calls to other calls by Priority Level feature; providing more green split to the signal priority phase by Green Extension attribute. This study aims to evaluate the impact of these three parameters on the performance of transit signal priority. The study area is based on three signalized intersections of Prices Fork Road in Blacksburg, Virginia. A total of five transit lines are assumed to request signal priority. Green Extension and Priority Level were found to have significant influence on bus delays, whereas bus frequency is not a significant variable to affect TSP effectiveness (for reducing the transit delays). This study also aims to identify the traffic conditions in which the adaptive feature of VISSIM Ring Barrier Controller can be most useful. Detector Slack, Detector Adjust Threshold, and Adjust Step are the parameters that should be hardcoded in the controller for activating the adaptiveness feature. The study area (Prices Fork Road in town of Blacksburg, VA) incorporates five bus lines are assumed eligible to request priority. This study revealed that transit service overlap can enhance or exacerbate each bus performance when transit signal priority is implemented, depending on the scheduled headways and the frequency of signal priority requests in each intersection.
Related items
Showing items related by title, author, creator and subject.
Mutangadura, Gladys

(

Virginia Tech,

1997-02-18

)

In times of tightening national budgets as a result of structural adjustment requirements, the need to make choices in Zimbabwe's publicly funded research is heightened. Adoption of quantitative priority setting methods ...

Hesham Rakha

;

Ahn, Kyoungho

(

Virginia Center for Transportation Innovation and Research,

2006-03-01

)

, VTRC 06-CR6

Transit Signal Priority (TSP) is recognized as an emerging technology that is capable of enhancing traditional transit services. Basic green-extension TSP was implemented on U.S. Route 1 in the Northern Virginia Area (or ...

Spaid, Robin L

(

Virginia Polytechnic Institute and State University,

1989

)