The influence of online reviews to online hotel booking intentions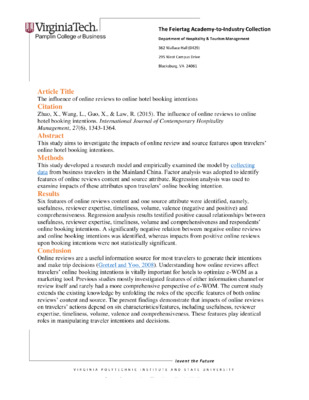 Date
2015
Author
Zhao, X.
Wang, L.
Guo, X.
Law, R.
Abstract
This study aims to investigate the impacts of online review and source features upon travelers' online hotel booking intentions.
Related items
Showing items related by title, author, creator and subject.
Xenakis, Gina Marie

(

Virginia Tech,

2009-05-12

)

The internet has revolutionized the way people are able to seek information and express themselves. Many fields have been dramatically impacted by its occurrence and the health field is no exception. It is becoming ...

Richardson-Quamina, Tenille Anise

(

Virginia Tech,

2015-06-15

)

Previous research has examined the various types of online infidelity, gender differences in online sexual behaviors, and relationship consequences of online affairs. Despite this attention, there remains a research gap ...

Hegngi, Yolanda Nokuri

(

Virginia Tech,

1997-04-15

)

The purpose of this study was to examine and describe the events of the first iteration of the Media Technology and Diversity course with an in-depth analysis of its electronic discourse. In conceptualizing the viable ...