The influence of online reviews to online hotel booking intentions [Summary]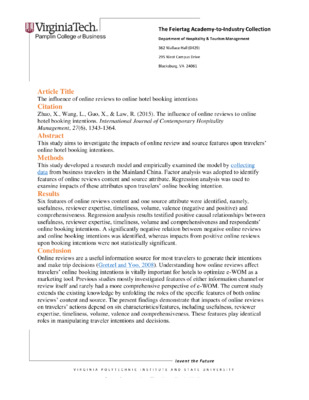 Date
2015
Author
Zhao, X.
Wang, L.
Guo, X.
Law, R.
Abstract
This study aims to investigate the impacts of online review and source features upon travelers' online hotel booking intentions.
Related items
Showing items related by title, author, creator and subject.
Bilgihan, Anil

;

Bujisic, M.

(

Virginia Tech,

2015

)

The primary objective of this research is to develop a theory-based model of utilitarian and hedonic website features, customer commitment, trust, and e-loyalty in an online hotel booking context. Structural Equation ...

Inversini, A

;

Masiero, L

(

Virginia Tech,

2014

)

This paper aims to focus on the reason why hoteliers choose to be present in online travel agent (OTA) and social media websites for sales purposes. It also investigates the technological and human factors related to these ...

Hegngi, Yolanda Nokuri

(

Virginia Tech,

1997-04-15

)

The purpose of this study was to examine and describe the events of the first iteration of the Media Technology and Diversity course with an in-depth analysis of its electronic discourse. In conceptualizing the viable ...