The influence of online reviews to online hotel booking intentions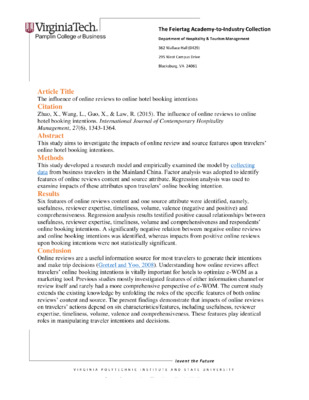 Date
2015
Author
Zhao, X.
Wang, L.
Guo, X.
Law, R.
Abstract
This study aims to investigate the impacts of online review and source features upon travelers' online hotel booking intentions.
Related items
Showing items related by title, author, creator and subject.
Heir, Manveer

;

Hoon, Harish

;

Terrell, Goldie

;

McCrickard, D. Scott

(

Department of Computer Science, Virginia Polytechnic Institute & State University,

2004

)

, TR-04-30

Begole, James

(

Virginia Tech,

1994-06-18

)

The aim of Project GeoSim is to develop simulation based introductory geography education software. To maximize the educational benefit of the software, Project GeoSim has developed three user assistance and training ...

Hegngi, Yolanda Nokuri

(

Virginia Tech,

1997-04-15

)

The purpose of this study was to examine and describe the events of the first iteration of the Media Technology and Diversity course with an in-depth analysis of its electronic discourse. In conceptualizing the viable ...