Corporal Punishment of Children in Nine Countries as a Function of Child Gender and Parent Gender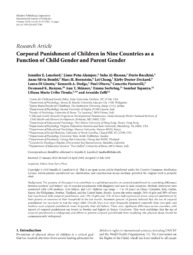 View/Open
Downloads: 52
Downloads: 127
Date
2010-09-23
Author
Lansford, Jennifer E.
Alampay, Liane Peña
Al-Hassan, Suha
Bacchini, Dario
Bombi, Anna Silvia
Bornstein, Marc H.
Chang, Lei
Deater-Deckard, Kirby
Di Giunta, Laura
Dodge, Kenneth A.
Oburu, Paul
Pastorelli, Concetta
Runyan, Desmond K.
Skinner, Ann T.
Sorbring, Emma
Tapanya, Sombat
Tirado, Liliana Maria Uribe
Zelli, Arnaldo
Abstract
Background. The purpose of this paper is to contribute to a global perspective on corporal punishment by examining differences between mothers' and fathers' use of corporal punishment with daughters and sons in nine countries. Methods. Interviews were conducted with 1398 mothers, 1146 fathers, and 1417 children (age range to 10 years) in China, Colombia, Italy, Jordan, Kenya, the Philippines, Sweden, Thailand, and the United States. Results. Across the entire sample, 54% of girls and 58% of boys had experienced mild corporal punishment, and 13% of girls and 14% of boys had experienced severe corporal punishment by their parents or someone in their household in the last month. Seventeen percent of parents believed that the use of corporal punishment was necessary to rear the target child. Overall, boys were more frequently punished corporally than were girls, and mothers used corporal punishment more frequently than did fathers. There were significant differences across countries, with reports of corporal punishment use lowest in Sweden and highest in Kenya. Conclusion. This work establishes that the use of corporal punishment is widespread, and efforts to prevent corporal punishment from escalating into physical abuse should be commensurately widespread.
Collections