VTechWorks staff will be away for the Thanksgiving holiday starting November 24 through November 28, and will not be replying to requests during this time. Thank you for your patience.
Hotel Revenue Management Strategies during Fall Foliage Travel Season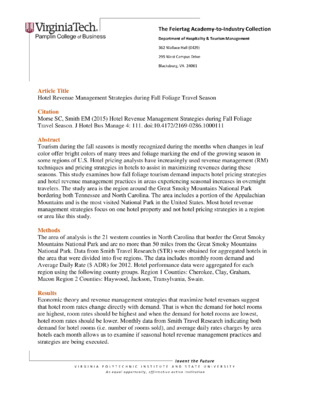 Date
2015
Author
Morse, Stephen
Smith, Eva
Abstract
Tourism during the fall seasons is mostly recognized during the months when changes in leaf color offer bright colors of many trees and foliage marking the end of the growing season in some regions of U.S. Hotel pricing analysts have increasingly used revenue management (RM) techniques and pricing strategies in hotels to assist in maximizing revenues during these seasons. This study examines how fall foliage tourism demand impacts hotel pricing strategies and hotel revenue management practices in areas experiencing seasonal increases in overnight travelers. The study area is the region around the Great Smoky Mountains National Park bordering both Tennessee and North Carolina. The area includes a portion of the Appalachian Mountains and is the most visited National Park in the United States. Most hotel revenue management strategies focus on one hotel property and not hotel pricing strategies in a region or area like this study.
Collections