Annual Report – Agricultural Engineering Project No. 10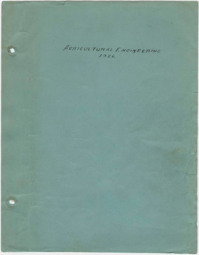 View/Open
Downloads: 22
Downloads: 2
Date
1926
Abstract
Annual Report for Project 10 detailing Virginia Cooperative Extension activities in 1926.
Collections
Related items
Showing items related by title, author, creator and subject.
Jung, Seyong

;

Brizzolara, Stefano

;

Woolsey, Craig A.

(

IEEE,

2021-07-01

)

In this study, hydrodynamic forces on a submerged vessel maneuvering near a free surface are determined using a reformulated Lagrangian nonlinear maneuvering and seakeeping model derived using Lagrangian mechanics under ...

Lai, J. S.

;

Bailey, J. M.

;

Young, R. W.

;

Sohns, C. W.

;

Hawsey, R. A.

(

IEEE,

1989-01-01

)

A high-speed (20,000 r/min) axial-gap permanent magnet (PM) synchronous motor constructed and controlled using a novel algorithm is described. An optimization algorithm using the Newton-Raphson method is proposed to solve ...

Lewis, Racheida Sharde

(

Virginia Tech,

2019-11-22

)

While first-year engineering (FYE) programs have grown dramatically over the last 30 years, they take a variety of different structures. However, few if any, researchers and FYE program developers has considered how program ...