Restoring Our Urban Streams A Study Plan for Restoring/Rehabilitating Stroubles Creek in Blacksburg, Virginia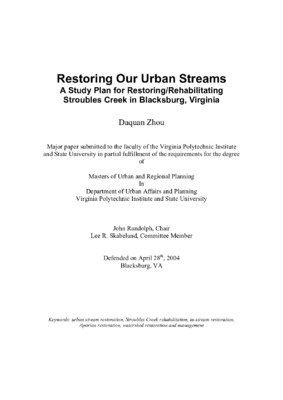 View/Open
Downloads: 194
Downloads: 102
Downloads: 404
Date
2004-05-05
Abstract
As the Americans have become more aware of the impact to the environment from the human induced disturbances which includes physical, chemical and biological disturbances to the degradation of streams and rivers, many studies and experiments have been done in an attempt to restore streams and rivers to more natural conditions. At the same time, success in public education and community involvement has encouraged grass-root movements that engage people in stream restoration efforts. Stroubles Creek is a freshwater stream located in Blacksburg, Virginia. The creek has experienced considerable disturbance due to land use changes over the past 100 years. The Stroubles Creek Water Initiative (SCWI), originated by the Virginia Water Resources Research Center at Virginia Tech, has been monitoring the creek for a number of years. This paper develops a planning framework for restoring and/or rehabilitating Stroubles Creek within the Town of Blacksburg. The results of stream monitoring and other research by SCWI are used to inform the recommended planning process, while a literature review and discussion of "urban stream restoration case studies" are used to guide future decision-making related to Stroubles Creek restoration/rehabilitation.
Related items
Showing items related by title, author, creator and subject.
Cairns, John

(

The Journal of Social, Political, and Economic Studies,

2006

)

Aquatic ecosystems must play a major role to ensure that water, which is both essential and scarce, is always available for both present and future generations. This has become even more urgent in light of the ongoing ...

Nicolay, John

(

Virginia Tech,

1991-05-30

)

Do citizen volunteers, sitting on legislatively created local historic architectural review boards, represent a part of the American governance tradition? This study examines the relationships between public board ...

Turpie, J.K.

;

Marais, C.

;

Blignaut, J.N.

(

Elsevier B.V.,

2008

)

South Africa's government-funded Working for Water (WfW) program is a payments for ecosystem services (PES) initiative to improve the biodiversity, land potential, and hydrologic function of mountain watersheds by invasive ...