Why do we buy luxury experiences?: Measuring value perceptions of luxury hospitality services [Summary]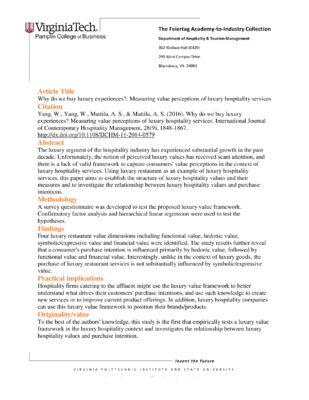 Date
2015-11-11
Author
Mattila, Anna S.
Yang, Wan
Abstract
The luxury segment of the hospitality industry has experienced substantial growth in the past decade. Unfortunately, the notion of perceived luxury values has received scant attention, and there is a lack of a valid framework to capture consumers' value perceptions in the context of luxury hospitality services. Using luxury restaurant as an example of luxury hospitality services, this paper aims to establish the structure of luxury hospitality values and their measures and to investigate the relationship between luxury hospitality values and purchase intentions.
Related items
Showing items related by title, author, creator and subject.
Cavender, Rayecarol

(

Virginia Tech,

2012-06-21

)

This qualitative study contributed to the growing body of research in luxury brand management by constructing a framework that can be utilized by luxury companies and conglomerates to develop their business strategies. The ...

Kamruzzaman, Md

(

Virginia Tech,

2020-02-12

)

Prior research on luxury hospitality consumption has focused mainly on understanding luxury consumer attitude, values, and luxury brand management. This study provides important managerial implications for luxury hospitality ...

Wan, Yang

;

Lu, Zhang

;

Anna, S. Mattila

(

Virginia Tech,

2016

)

As an emerging distribution channel, online discount websites are gaining popularity among luxury hotels. However, little guidance on the effectiveness of such price promotions in luxury hotels is provided in the extant ...