VTechWorks staff will be away for the Memorial Day holiday on Monday, May 27, and will not be replying to requests at that time. Thank you for your patience.
Reduced Muscle Glycogen Differentially Affects Exercise Performance and Muscle Fatigue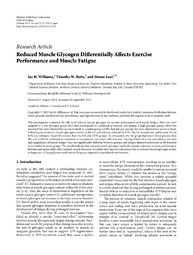 View/Open
Downloads: 169
Downloads: 43
Date
2012-12-03
Author
Williams, Jay H.
Batts, Timothy W.
Lees, Simon
Abstract
This investigation examined the effects of reduced muscle glycogen on exercise performance and muscle fatigue. Male rats were assigned to a low glycogen group (LG) that participated in a protocol of exercise and fasting, a high glycogen group (HG) that exercised but were allowed free access to food, or control group (CON) that did not exercise but were allowed free access to food. Following the protocol, muscle glycogen content of the LG animals was reduced by 45%. The LG animals also performed 79 and 81% less voluntary treadmill exercise than the HG and CON groups. At exhaustion, the LG group had lower blood glucose than HG and CON but exhibited no reduction in sarcoplasmic reticulum (SR) function. During 30 min of in situ stimulation, the rates and magnitudes of muscle fatigue were not significantly different between groups, and fatigue-induced reductions in SR function were similar between groups. The results indicate that reduced muscle glycogen markedly impairs voluntary exercise performance but does not appreciably affect isolated muscle function. It is likely that exercise exhaustion due to reduced muscle glycogen is due, in large part, to hypoglycemia and central fatigue as opposed to peripheral mechanisms.
Collections