Towards a transaction-based hotel property price index for Europe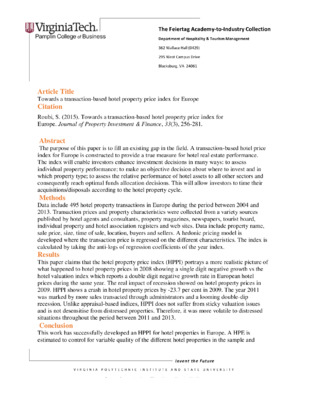 Date
2015
Abstract
The purpose of this paper is to fill an existing gap in the field. A transaction-based hotel price index for Europe is constructed to provide a true measure of hotel real estate performance. The index will enable investors to enhance investment decisions in many ways: to assess individual property performance; to make an objective decision about where to invest and in which property type; to assess the relative performance of hotel assets to all other sectors and consequently reach optimal funds allocation decisions. This will allow investors to time their acquisitions/disposals according to the hotel property cycle.
Related items
Showing items related by title, author, creator and subject.
Hogan, Johan

(

Hotel-online.com,

2009-09

)

While many of us appreciate some forms of government support, we must take action ourselves in directed steps to tackle our particular challenges and begin to turn the situation around. "Facts are the most important ...

Šuligoj, M.

;

Maruško, H.

(

De Gruyter Open Sp. z o.o,

2017

)

Background and Purpose: Tourists from the Islamic world are significant stakeholders in the tourism market. The purpose of this paper is to identify the key aspects of halal tourism in connection with the hotel industry. ...

Hogan, John

(

Hospitality Net,

2014-01-21

)

"I can walk through a hotel lobby and watch people at the desk and see what they're doing. People don't look at me. They don't even know I'm there." Jerry Seinfeld Owning a hotel can be either a delight or a nightmare, ...