Influential factors and relational structure of Internet banner advertising in the tourism industry [Summary]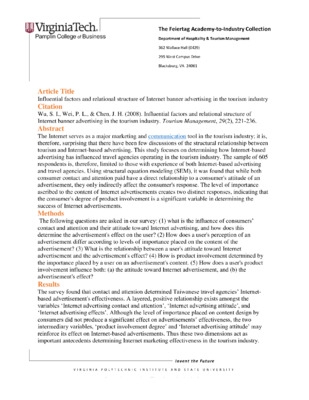 Date
2008-04
Author
Wu, Shwu-Ing
Wei, Pao-Lien
Chen, Jui-Ho
Abstract
The Internet serves as a major marketing and communication tool in the tourism industry; it is, therefore, surprising that there have been few discussions of the structural relationship between tourism and Internet-based advertising. This study focuses on determining how Internet-based advertising has influenced travel agencies operating in the tourism industry. The sample of 605 respondents is, therefore, limited to those with experience of both Internet-based advertising and travel agencies. Using structural equation modeling (SEM), it was found that while both consumer contact and attention paid have a direct relationship to a consumer's attitude of an advertisement, they only indirectly affect the consumer's response. The level of importance ascribed to the content of Internet advertisements creates two distinct responses, indicating that the consumer's degree of product involvement is a significant variable in determining the success of Internet advertisements.
Related items
Showing items related by title, author, creator and subject.
Sherrer, Mary T.

(

Virginia Tech,

2002-07-29

)

The purpose of this thesis is to investigate how the price of advertising space affects the demand for help-wanted advertising. To do so, this thesis develops and estimates an econometric model to explain and predict the ...

DeNardis, Laura Ellen

(

Virginia Tech,

2006-03-15

)

IPv6, a new Internet protocol designed to exponentially increase the global availability of Internet addresses, has served as a locus for incendiary international tensions over control of the Internet. Esoteric technical ...

Dhairyawan, Amit

(

Virginia Tech,

2002-12-20

)

The aim of this thesis is to provide academic support to the oldest discipline of Mechanical Engineering, namely "Machine Design". The rapid pace of technological development drives every individual, especially students. ...