Effects of constitutive and acute Connexin 36 deficiency on brain-wide susceptibility to PTZ-induced neuronal hyperactivity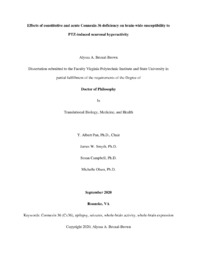 View/Open
Downloads: 29
Downloads: 2
Downloads: 2
Downloads: 3
Downloads: 2
Downloads: 3
Date
2020-10-30
Author
Brunal-Brown, Alyssa Alexandra
Abstract
Connexins are transmembrane proteins that form hemichannels allowing the exchange of molecules between the extracellular space and the cell interior. Two hemichannels from adjacent cells dock and form a continuous gap junction pore, thereby permitting direct intercellular communication. Connexin 36 (Cx36), expressed primarily in neurons, is involved in the synchronous activity of neurons and may play a role in aberrant synchronous firing, as seen in seizures. To understand the reciprocal interactions between Cx36 and seizure-like neural activity, we examined three questions: a) does Cx36 deficiency affect seizure susceptibility, b) does seizure-like activity affect Cx36 expression patterns, and c) does acute blockade of Cx36 conductance increase seizure susceptibility. We utilize the zebrafish pentylenetetrazol (PTZ; a GABA(A) receptor antagonist) induced seizure model, taking advantage of the compact size and optical translucency of the larval zebrafish brain to assess how PTZ affects brain-wide neuronal activity and Cx36 protein expression. We exposed wild-type and genetic Cx36-deficient (cx35.5-/-) zebrafish larvae to PTZ and subsequently mapped neuronal activity across the whole brain, using phosphorylated extracellular-signal-regulated kinase (pERK) as a proxy for neuronal activity. We found that cx35.5-/- fish exhibited region-specific susceptibility and resistance to PTZ-induced hyperactivity compared to wild-type controls, suggesting that genetic Cx36 deficiency may affect seizure susceptibility in a region-specific manner. Regions that showed increased PTZ sensitivity include the dorsal telencephalon, which is implicated in human epilepsy, and the lateral hypothalamus, which has been underexplored. We also found that PTZ-induced neuronal hyperactivity resulted in a rapid reduction of Cx36 protein levels within. 30 minutes and one-hour exposure to 20 mM PTZ significantly reduced the expression of Cx36. This Cx36 reduction persists after one-hour of recovery but recovered after 3-6 hours. This acute downregulation of Cx36 by PTZ is likely maladaptive, as acute pharmacological blockade of Cx36 by mefloquine results in increased susceptibility to PTZ-induced neuronal hyperactivity. Together, these results demonstrate a reciprocal relationship between Cx36 and seizure-associated neuronal hyperactivity: Cx36 deficiency contributes region-specific susceptibility to neuronal hyperactivity, while neuronal hyperactivity-induced downregulation of Cx36 may increase the risk of future epileptic events. 
General Audience Abstract
Within the brain, cells (neurons) communicate with each other to pass along information. This communication is important for normal functions of the brain such as learning and memory, muscle movement, etc. Epilepsy is a disease of the brain that is caused by rapid over synchronized communication between cells. This leads to seizures which can include convulsions, loss of attention, and much more. Currently, 30% of patients suffering from epilepsy do not have a treatment option that works for them, it is, therefore, imperative to investigate new targets for treatment in this disease. Connexin36 is a protein in the brain that directly connects cells so they can pass information quickly between them. Connexin36, therefore, might make a good target for treatment. Previous work has aimed to understand this relationship but has been limited in their ability to look at the entire brain at any one time. The goal of this study was to understand the relationship between connexin 36 and brain hyperactivity across the whole brain simultaneously. To understand this relationship, we first determined what happened to brain activity if the protein was missing entirely after exposure to a seizure causing drug. We were asking: How does connexin 36 affect hyperactivity. We found that different regions of the brain responded differently without the connexin 36 protein. This suggests that one size does not fit all, and one must look at the whole brain to understand the effects of the connexin 36 protein. Next, we asked a similar question, but in the opposite direction, how does hyperactivity affect connexin 36? We found, in the short-term, hyperactivity reduced the amount of connexin 36 present in certain regions of the brain. This continued until 3 hours following exposure to the seizure causing drug Pentylenetetrazol (PTZ). Lastly, to determine if this short-term reduction in connexin 36 meant that an individual was more likely to experience hyperactivity. To do this, we used a connexin 36 blocking drug, then introduced the seizure causing drug at different concentrations. We found, at all concentrations, the connexin 36 blocking drug caused significant changes in neuronal activity, depending on the brain regions. Overall, our results showed that connexin 36 plays an important role in hyperactivity and that a short-term reduction in connexin 36 is detrimental, and may contribute to an increase in the possibility of subsequent hyperactivity.