ETDs: Virginia Tech Electronic Theses and Dissertations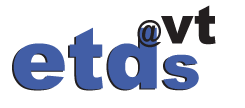 Permanent URI for this community
Virginia Tech has been a world leader in electronic theses and dissertation initiatives for more than 20 years. On January 1, 1997, Virginia Tech was the first university to require electronic submission of theses and dissertations (ETDs). Ever since then, Virginia Tech graduate students have been able to prepare, submit, review, and publish their theses and dissertations online and to append digital media such as images, data, audio, and video.
University Libraries staff are currently digitizing thousands of pre-1997 theses and dissertations and loading them into VTechWorks. Most of these theses and dissertations are fully available to the public, but we will, in general, honor requests by the item's author to restrict access to Virginia Tech only. See our process for Requesting that Material be Amended or Removed.
To search all Virginia Tech print and digital theses and dissertations, use the University Libraries ETD resource guide.
Materials that are restricted to Virginia Tech only may be requested via your own university or public library's Interlibrary Loan program or through the VTechWorks request form that appears when you try to access the item. You might also be able to obtain a copy of the work through ProQuest's database of theses and dissertations. If you are on a Virginia Tech campus but are unable to find the pre-1997 thesis or dissertation you are seeking in VTechWorks, you may also be able to order a physical copy from library storage. Please check the library catalog at http://www.lib.vt.edu/ for physical copies.
The guidelines that apply to Virginia Tech's graduate students as ETD authors can be found at http://guides.lib.vt.edu/ETDguide.
Browse
Collections in this Community