Transforming Performances: An Intern-Reseacher's Hypertextual Journey in a Postmodern Community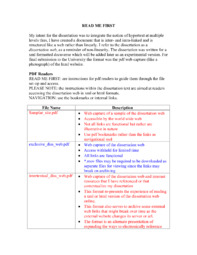 View/Open
Downloads: 137
Downloads: 188
Downloads: 157
Downloads: 514
Downloads: 9112
Downloads: 300
Downloads: 341
Downloads: 320
Downloads: 302
Downloads: 291
Downloads: 122
Downloads: 146
Date
2001-10-31
Abstract
I present the dissertation web as a montage of a postmodern inquiry of my doctoral internship and research experiences—concerns and jubilation—positioned within the discourses of postmodern, dissertation, academia, experimentalism and cyberspace innovations among others. I create a social constructionistic interactive interplay, using hypertext, among my various voices of an intern, a researcher and a person.
In the dissertation web—my inquiry—I practice the characterization of postmodernism on numerous fronts—subject of study, context of study, methodology and re-presentation of the inquiry. Implicitly and explicitly, I articulate the various characterizations of postmodernism in my inquiry by challenging the traditional research practices (metanarratives). I challenge the traditional praxis by alternate performances of research practices such as studying myself in a cultural context of an internship using the methodology of autoethnography and performance.
The hypertext docuverse is a further characterization of postmodernism in the styles and structures that are used for re-presentation of the narratives. The styles of narration I useâ such as words and graphics, prose and poetry, first person conversational texts, narratives and collages—blur the boundary of "academic" writing, literature, and art.
The hypertext is intended as a metaphorical experiential, intertextual journey of an intern and a researcher. Rather than a fixed structure, I create numerous structures of possible structures to privilege the readers' navigational choices. I anticipate that the reader's choices in the virtual space might create a sense of meaning-transformation as one traverses through the dissertation web, thus, valuing fragmentation and connection as aspects of sense-making, which are contextualized (among others) by the reader's meaning frames and my hypertextual performances.
The dissertation is submitted in three formats—exclusive dissertation web.pdf, intertextual dissertation web.pdf, and xml version. The exclusive dissertation web.pdf is a web capture in pdf format of all the "files" that compose the dissertation web created in html. The intertextual dissertation web.pdf is a web capture of my dissertation along with the capture of external web resources that contextualize my dissertation web, thus illustrating the intertextuality of hypertexts by making the dissertation part of the larger textual web.
Due to the web capture, the "docuverse" is nonlinear and the pages do not follow any particular or author predefined sequences. So, please use the internal links or the bookmarks to read or browse the dissertation web rather than scroll from the first "page" to the last "page" of the pdf formatted docuverse. The third version in xml will be made available at a later date. An html version of the dissertation is available directly from the researcher-author.
CAUTION! The links from the abstract may be broken due to archiving of the dissertation web.