VTechWorks staff will be away for the Memorial Day holiday on Monday, May 27, and will not be replying to requests at that time. Thank you for your patience.
The Relationship Among Organizational Justice, Trust, and Role Breadth Self-Efficacy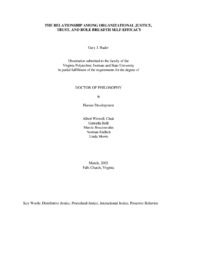 Date
2003-03-24
Abstract
THE RELATIONSHIP AMONG ORGANIZATIONAL JUSTICE, TRUST, AND ROLE BREADTH SELF-EFFICACY Gary J. Ruder Committee Chairperson: Albert K. Wiswell Human Development (Abstract) The purpose of this study was to examine whether organizational practicesâ fairness (also known as organizational justice) and trustâ contribute to the enhancement of role breadth self-efficacy (RBSE), a form of proactive behavior. The sample consisted of 226 white-collar professionals in large and small organizations. Approximately 70% held a college degree. An a priori path model based on theoretical literature was generated to represent causal relationships among the variables. Two paths were explored: a) the relationship among procedural justice, trust in organization, and RBSE; and b) the relationship among interactional justice, trust in supervisor, and RBSE. Findings indicated a statistically significant relationship between procedural justice and trust in organization. The relationships between procedural justice and RBSE and trust in organization and RBSE were not significant. Interactional justice had a statistically significant relationship with trust in supervisor, but not with RBSE. The relationship between trust in supervisor and RBSE was not significant. Respondents expressed a strong trust in their organization, and a stronger trust in their immediate supervisor. The most important discovery in this study was the statistically significant relationship between education and RBSE. Individuals with graduate degrees reported the highest level of RBSE, followed by people with Bachelorâ s degrees. Globalization and technology are fueling demands for ever-increasing employee skills and higher levels of education. Organizations need highly educated, proactive individuals in order to be successful. Future research should continue to investigate variables and constructs that may enhance RBSE in the workplace.