VTechWorks staff will be away for the Thanksgiving holiday starting at noon on Wednesday, November 21, through Friday, November 23, and will not be replying to requests during this time. Thanks for your patience, and happy holidays!
Weaving feminism, pragmatism, and distance education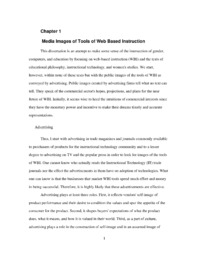 View/Open
Downloads: 224
Downloads: 124
Downloads: 226
Downloads: 71
Downloads: 76
Downloads: 111
Downloads: 80
Downloads: 89
Date
2000-04-18
Author
Scheckler, Rebecca K.
Abstract
From images of distance education (DE) in advertisements to examples of extant DE theory and practice, and finally to a possible dystopia and utopia for DE, this dissertation investigates the rich representations at the intersection of feminism, pragmatism, and web based distance education. It is composed of three parts. The first part is the construction of a feminist-pragmatic theoretical and analytical tool, motivated by images of DE in commercial advertisements. These images include control of nature (and the natural body), gendered experience, transactions of bodies and tools, loss of bodies, and atomic individualism. In response to these images, the main unifying theme of the tool is organic holism where the world as a dynamic system connects with culture, biology, history, and context. It draws heavily on the work of John Dewey, Charlene Haddock Seigfried, Timothy Kaufman-Osborn, Shannon Sullivan, Nancy Fraser, Donna Haraway, Sandra Harding, and Carolyn Merchant in order to form a rich weaving useful to instructional technologists and philosophers of education. The second part explores three examples of extant web based distance education using this tool. Lastly, I explore alternatives to current instantiations of distance education including a dystopia and a melioristic option that I call sustainable technology.