VTechWorks staff will be away for the Thanksgiving holiday beginning at noon on Wednesday, November 22, through Friday, November 24, and will not be replying to requests during this time. Thank you for your patience, and happy holidays!
Examining Educational Initiatives to Increase Minority Student Enrollment in Advanced Placement Program Courses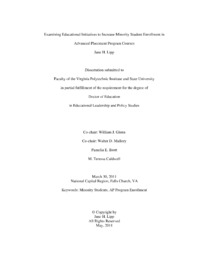 View/Open
Downloads: 284
Downloads: 68
Downloads: 55
Date
2011-03-30
Abstract
A pertinent educational issue in our country today is the minority achievement gap. One specific program that has been developed and implemented over the last several years in an effort to provide strong academic curriculum and to raise student achievement, including minority student achievement, is the College Boardâ s Advanced Placement (AP) Program. The AP Program courses are widely recognized as providing students with academically challenging curriculum, facilitating their acceptance to colleges and supporting their preparation for and performance in post-secondary education. The emphasis of this research relates to the specific concern that although the AP Program has been in existence for several decades and is an integral part of most high schoolsâ curriculum for at least ten years, there is an under-representation of minority students in high school Advanced Placement (AP) Program courses. This qualitative research involved completing an in-depth case study of a designated secondary school in the Mid-Atlantic region that has been successful in recruiting and enrolling students, majority and minority, in the AP Program. Guiding questions for this case study related to identifying the individuals who influenced enrollment, as well as the policies, procedures, interventions, and strategies used to recruit students and increase their enrollment in AP courses. These research findings revealed various key factors that contributed to the success of increasing student enrollment in these academic courses and the factors are similar to those identified in the literature and other research studies. These factors include: (a) shared and distributed leadership demonstrated across the school; (b) collaborative vision and mission; (c) an AP Program with high expectations and a relevant and rigorous curriculum; (d) strong academic advisement, data-driven decision making, and specific school policies and procedures related to the AP Program; (e) extended student learning opportunities and individualized support; and (f) varied professional development and training for faculty. This case study highlights a group of dedicated and committed leaders with collaborative vision who implemented an academic program with focused initiatives and interventions. Between 2003 and 2009, this school increased overall student enrollment in the AP Program by 15.2%, with the Black student enrollment increasing by 11.9% and the Hispanic student enrollment increasing by 10.5%. They accomplished their goal and commitment to increasing minority enrollment in the AP Program and providing enriched academic learning opportunities for all students.