VTechWorks staff will be away for the Thanksgiving holiday beginning at noon on Wednesday, November 22, through Friday, November 24, and will not be replying to requests during this time. Thank you for your patience, and happy holidays!
Implementing MAPP (Mobilizing for Action through Planning and Partnerships) in the New River Valley, Virginia: A Planning Approach to Improve the Community's Health and Quality of Life through Mobilized Partnerships and Strategic Action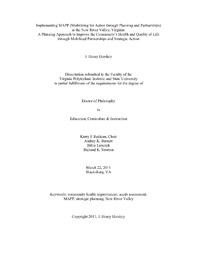 View/Open
Downloads: 1194
Downloads: 59
Date
2011-03-22
Abstract
The present study implemented Mobilizing for Action through Planning and Partnerships (MAPP)â a comprehensive, multi-component, strategic planning model and toolâ in the New River Valley (NRV), Virginia to mobilize the NRV community to improve its own health status and the quality of life of its residents. The current mixed methods study represents one of the first to utilize MAPP in southwest Virginia and Virginia and is the most comprehensive community health needs assessment and strategic planning effort to date in the NRV. Through MAPP, the NRV community strived to determine the most effective ways to achieve optimal community health by considering its unique circumstances and needs, prioritizing public health system issues, identifying resources, and then developing integrated plans and forming effective partnerships for strategic action. The NRV MAPP process provided a solid framework for creating a community-driven needs assessment and strategic planning approach and initiative that brought together diverse public, private, non-profit, and voluntary organizations/agencies, businesses, faith communities, academia, local government, community members, and others who shared the commitment to and had a role in the NRV communityâ s health and overall well-being. The current study also reviews the specific findings, summarizes the benefits and successes, and highlights lessons learned (including challenges and limitations) from the NRV MAPP experience, as well as makes recommendations for current practice and future research. Additionally, it provides a step-by-step overview of the entire MAPP process for potential users as applied to a real-world community, specifically the NRV.