The Effect of Process Accountability on the Evaluation of Audit Evidence: An Examination of the Audit Review Process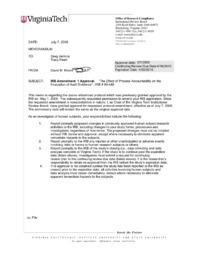 View/Open
Downloads: 102
Downloads: 89
Downloads: 940
Downloads: 83
Date
2010-05-03
Author
Reed, Tracy Nelson
Abstract
This dissertation examines the effect of accountability and client risk on auditor efficiency and effectiveness during an audit review task. I considered two types of accountability. The first type is outcome accountability, which represents the type of accountability in the current audit review process. The second type of accountability is process accountability, which is not currently utilized in the audit review process. I also examined two levels of client risk (high and low) because client risk has been shown to impact efficiency and effectiveness of the audit review process. An internet-based experimental instrument was utilized for this study. Participants were practicing auditors.
Findings indicate that process accountability improved performance by exhibiting both an increase in identification of errors and a decrease in likelihood of agreement with the preparer. Findings also show that process accountability decreases efficiency by increasing overall time to complete the study and the amount of information reviewed. These results suggest that process accountability, the act of documenting the process used to perform a task, may reduce the chances of audit failure, making the reduction in efficiency acceptable.
I also find that participants in the process accountability and high risk groups may have experienced information overload. Both high client risk and process accountability have been shown to increase attention to information and time spent on a task. A decrease in errors identified by individuals in this group when compared to individuals in the process accountability and low risk group may indicate information overload. Also, attrition rates and followup responses from participants who did not complete the study indicate that information overload may have been an issue for participants in the process accountability/high risk group.
Related items
Showing items related by title, author, creator and subject.
Ozlanski, Michael Edward

(

Virginia Tech,

2013-04-23

)

The purpose of this study is to investigate how the effects of principles vs. rules based accounting standards and a potential change in the audit reporting model will affect investors' perceptions of management's reporting ...

Long, James Harvey

(

Virginia Tech,

2009-03-27

)

This dissertation examined the effects of interruption on auditor efficiency and effectiveness for one simple and two complex tasks within the audit domain. I evaluated these effects for novice and experienced auditors. ...

Patcha, Animesh

(

Virginia Tech,

2006-07-06

)

With the ever increasing deployment and usage of gigabit networks, traditional network anomaly detection based intrusion detection systems have not scaled accordingly. Most, if not all, systems deployed assume the availability ...