Comparing the Legibility and Comprehension of Type Size, Font Selection and Rendering Technology of Onscreen Type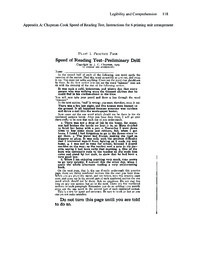 View/Open
Downloads: 438
Downloads: 153
Downloads: 558
Date
2001-10-08
Author
Chandler, Scott Bondurant
Abstract
This experimental study investigated the relationship between the independent measures of font selection, type size, and type rendering technology and the dependent measures of legibility, as measured by the Chapman-Cook speed of reading test, as well as comprehension, as measured by a series of questions from the verbal comprehension section of the Graduate Record Exam. An electronic instrument presented test items in 12 different typographic styles. The study tested 117 college students at a university in southwestern Virginia. Each participant encountered anti-alias type rendering style and the orthochromatic type rendering style while participants were randomly assigned to either Helvetica or Palatino (font selection) and 8, 10 or 12 point type size.
Results indicated that the 12 point type size was read more quickly than either 8 point type or 10 point type. There was also an interaction between font selection and type rendering technology for speed of reading: Helvetica without an anti-alias was read more quickly than Helvetica with an anti-alias and more quickly than Palatino without an anti-alias. These findings contradict an earlier, similar study.
There were no significant results with regard to comprehension.
[Vita removed Oct. 13, 2010. GMc]